Almost everyone I know will be celebrating Thanksgiving today and eating delicious turkeys with stuffing.
Growing up Thanksgiving wasn't such a big holiday in my house. Sure we had the day off school and my mom would cook a turkey, but it was more for the act of having Thanksgiving than actually celebrating Thanksgiving.
Once I got out into the "real world", Thanksgiving always seemed to fall off as a holiday of choice. It was always too difficult to make the trip home just for a long weekend especially when I knew that I would be going home in a couple of weeks for Christmas.
I don't think I really started enjoying Thanksgivings until I moved to South Carolina. It was definitely too far to go home for the holiday but since my best friends lived in Atlanta it was the perfect excuse to stay with them for four days and do our favorite things: eat, drink and sleep. Throw in some shopping and it was truly the best holiday out of my year.
We were all in our mid 20's so cooking the full meal for 2 - 3 people wasn't really an option. Instead we would buy pre-made turkeys and only make the side dishes. A fool proof Thanksgiving!
I was really depressed going into my first
Thanksgiving
in Europe knowing I wouldn't get to celebrate it. But two of my closest friends flew out to Europe and we spent an entire week roaming the streets of Paris and
Barcelona!
We even threw in a day where we ate dinner with all the fixings!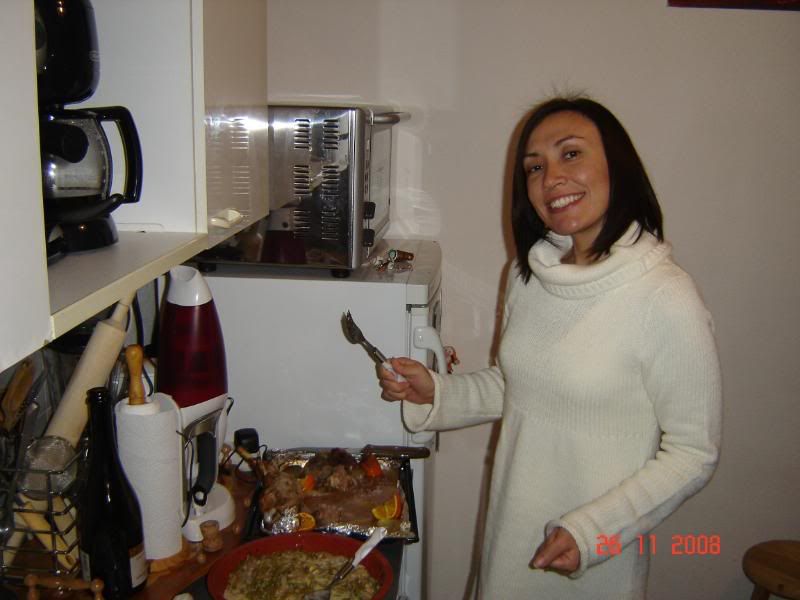 It definitely wasn't the big American Thanksgiving. It was a week spent with great friends doing what we love to do best. I was so thankful that they flew out and that I got to spend time with them and expose my European husband to a semi-authentic Thanksgiving. And afterall, isn't that what Thanksgiving is all about?
I think that my first (and only) European Thanksgiving was one of the best I've ever had. Although the one with naked guy on the coach and midnight shopping ranks a top second!
I hope everyone has an amazing Thanksgiving celebrating with the people you love.