I am definitely celebrating each week that comes without a baby. I only need to make it 2 more weeks before I'm no longer considered at risk. Woo hoo!
We did do a mini-photo session for the big Baby #2 name reveal. Be sure to come back Friday to see the pictures and most of all to see the name we've chosen!
I am definitely feeling more tired lately and it's becoming more uncomfortable to do simple things. Luckily I can still see my feet so putting on my shoes and socks is still a manageable task. It's all about the little things in life, right?
We've done a lot of baby related things this week. I've started my hospital bag although I still have some things that I need to purchase in order to satisfy the long list of things the hospital gave us. With Nathan I went crazy and bought all the things on the list and ended up using 2, so this year I'm only going to pack the things I know for sure I will need. In France you are typically in the hospital for 5 days so there are a lot of things you need to pack, like 6 changes of clothes for the baby.
Cornel is also putting the finishing touches on the nursery letters, and all appointments with the anesthesiologist, etc. have been scheduled. It's all starting to feel so real.
Other than that, there hasn't been too much going on. I'm still trying to rest as much as possible, but with a toddler around it's easier said than done.
All non-maternity clothes. Sweater: Tommy Hilfiger, Jeans: Abercrombie, Boot Socks: French boutique, Boots: Zara
Sweater: Old Navy (old), Pants: Motherhood Maternity; Boots: Macy's (old)
And because it is always fun to compare. Here I am at 33 weeks with Nathan.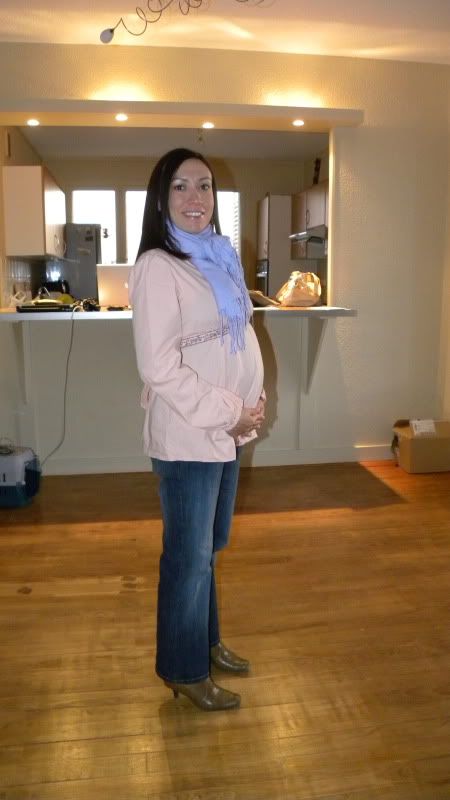 </