This week was supposed to be nice and relaxing with Nathan and I staying home for the week with no work and no daycare. Sadly we've both been sick and the weather has been terrible - cold and rainy! This has been anything but a fun week at home.
I consider the fact that I even got out of my PJ's this week a major accomplishment! We did have a doctor's appointment on Monday to check on baby #2, which was nice since I was forced to actually get up and dressed in the morning.
I have gained 1kg (2.2 pounds) and for some reason that just seems like a lot to me at this stage of my pregnancy. The baby seems to be doing healthy and I'm still not in maternity clothes. I would love to hold off until for a couple more weeks, but we'll see. I still haven't felt the baby move, but I didn't feel Nathan until week 20, so I have a few more weeks before I worry about that.
And here now are the pictures of me in week 16 in all of my sick and un-makeup glory.
shirt: H&M; sweater & Jeans: Old Navy; shoes: Minelli
Top: H&M; Jeans: Old Navy; Shoes: Nine West: Sweater wrap: Unknown
And just for fun here is the picture of my pregnant with Nathan at
16 weeks
. I feel like I was much bigger then even thought I was actually smaller..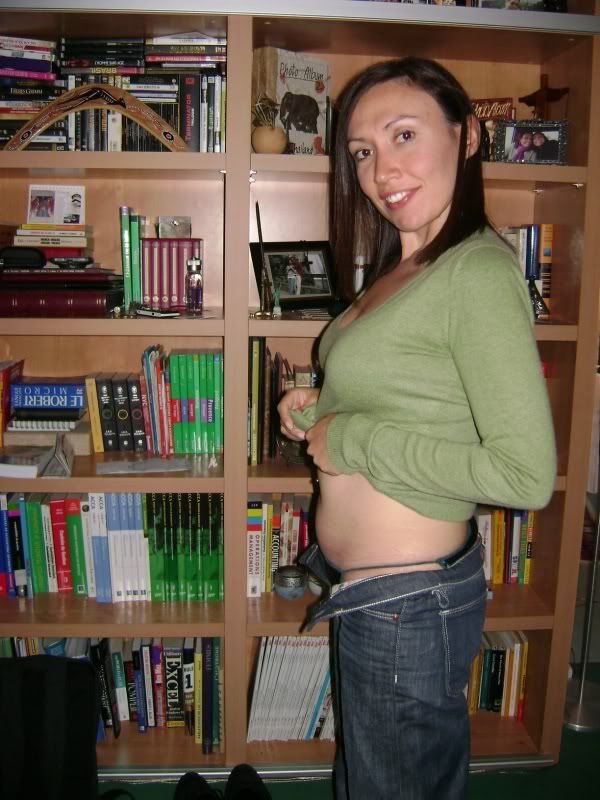 And because my mom asked:
Able to hear what's going on outside the womb! Loud noises are startling, but classical music is soothing … She's the size of an onion!