I guess I have never really thought about how important traditions are to me. I never really thought about traditions before and didn't really think I had many before moving here. There are always those family traditions that we all celebrate around the holidays and special occasions, but what else is there?
After having moved to France and especially since getting pregnant, I have been thinking about traditions a lot. I have been thinking about what kind of traditions we are going to pass on to our son, and what traditions are we going to share as a family? It is difficult to think about since we both live so far away from both of our families, and our cultural and family traditions are so different from one another's. And not to mention that living in a foreign country makes it so difficult to try and impart any traditions that we used to have as children. Some things just don't exist here, and we have to take into consideration the traditions of the local culture and how we would want to impart that on our family.
The are two great things that the French have invented. One being the french sidewalk cafes with their terraces outside on the sidewalks. It is such a great experience to go out and just sit and people watch and enjoy the morning. There are people drinking their coffees, reading the newspapers, books, or just chatting up with friends. And of course, the second greatest things invented by the french the Pain au Chocolate (bread with chocolate), which is like a chocolate filled croissant. All of these delicious little pastries that are so perfect for a light breakfast. There is nothing better in this world than a warm pain au chocolate right out of the oven from the corner boulangerie (bakery).
Taking both of these two things together are what make mine and Cornels' Saturday morning so wonderful. Every Saturday morning we wake up early, head over to the boulangerie down the road from us and buy fresh pain au chocolates.  We then head over downtown to Place Jaude to Garden Ice Cafe to enjoy our Grand Cafe and Grande Cafe Creme.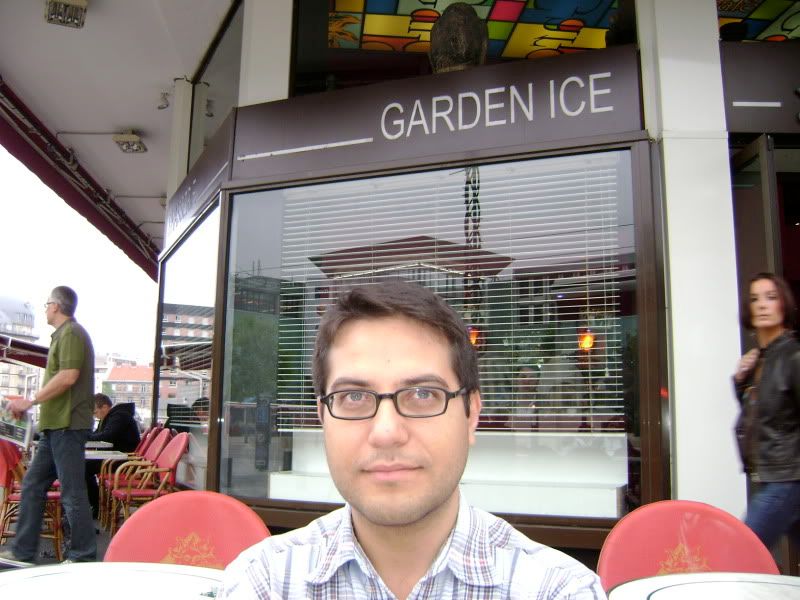 After having done this for the better part of a year, we no longer even have to order.  We take a seat outside on the terrance and within minutes the server comes over with our coffees.  We talk and enjoy the people watching while enjoying our delicious breakfast.  Since getting pregnant, this is the one day a week where I get to partake in many guilty pleasures, such as caffeine and sweets.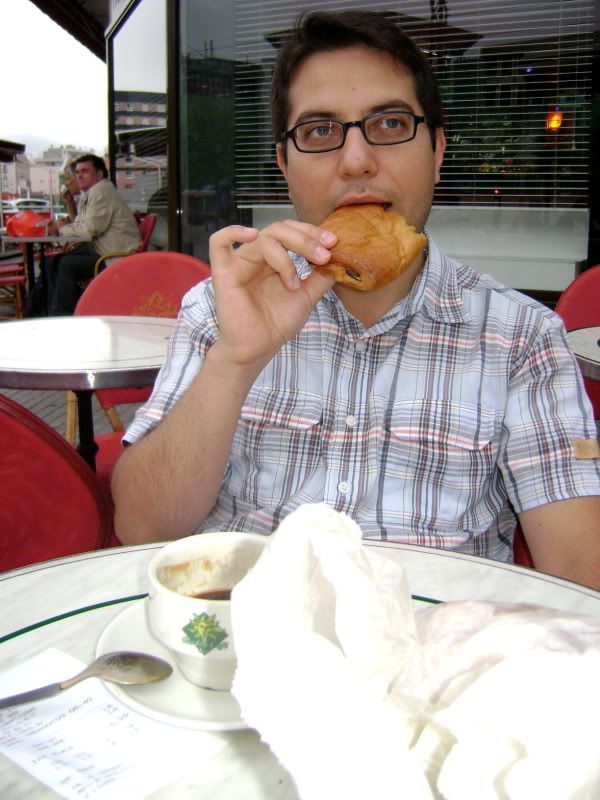 I can't wait to continue this tradition with our son and take him down to Place Jaude and let him suck on a pain au chocolate while we enjoy our breakfast.  Hopefully this will be something we can share as a family as long as we remain in France.