Since Nathan came a month early I never got to post pictures of his little nursery finally finished. At first we struggled to find a theme that we both agreed on that was appropriate for a little boy. Cornel wanted the moon and stars for the nursery, which I really loved. We even found the perfect bedding set at Pottery Barn Kids, however we never ended up finding the sheets.
Finally, when we were back in the states we found the cutest jungle sheets, and so it was decided - a jungle nursery.
The first step in creating this wonderful jungle masterpiece was getting rid of the purple wall that was in the room.
Once that was done, we decided to paint the room a very light green. I am not sure what the exact color is, since we had the store mix a special color for us, but it is a lighter version of a lime green.

It came out great. Cornel had decided that he wanted to paint a mural on the wall. Since I had never seen him draw, I was very skeptical and scared of what this room would look like in the end. After he drew a rough sketch on a piece of paper of what he hand in mind for the nursery, we were back to the paint store to pick out the colors for his jungle mural, which consisted of two monkey, a giraffe and a palm tree.

Since the wall color was so light and pencil would show up through the paint, he drew out the sketch in chalk before painting on the wall. After all the sketches were done, the painting began.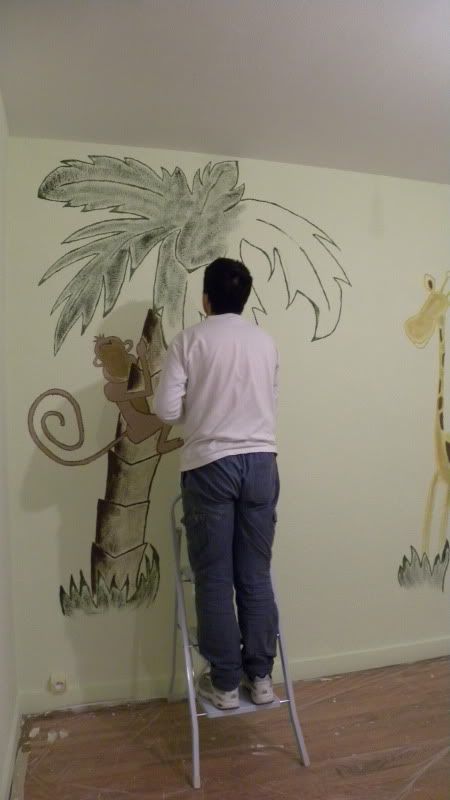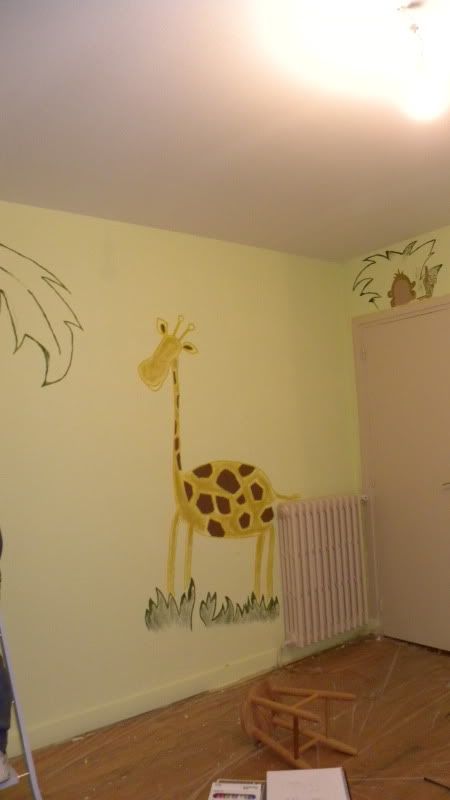 The transformation was amazing, and the jungle took shape quickly. Due to my lack in artistic skills, I was not allowed to help paint the mural (a very wise decision on Cornel's part). I was able, however, to participate and paint the wooden letters that would go above the changing table.

The painting took a couple of days since it was mainly done in the evenings. After it was all finished, the room finally looked like a jungle.

The next step was moving in the furniture and putting up the jungle themed curtains and light!

We had found this great palm leaf at Ikea, and knew that it was perfect and we had to have it for the nursery! We added it above the crib for the perfect accessory, and of course the stuffed elephants for the baby to play with, and VOILA...the room was perfect and ready for it's new little occupant!