On Friday, Nov. 6th, I spent all day at the hospital. Nothing was seriously wrong, but I had to go and see the anesthesiologist and get a scan of my pelvis. I was there from around 9 a.m., to around 12:30. After getting my scans the nurse suggested that I drop them off with my OB so that I wouldn't have to carry them around until my next appointment on the 16th (which ironically is today). When I went to the secretary, she said "Why don't you just hold on to them in case you get contractions this weekend". I laughed thinking "yeah right" and kept the scans.
The rest of the day was normal and I felt fine, I never thought that I would be having Nathan that night. When Cornel came home from work, I even made him take my 36 week picture!
On the way to the hospital, the pain got worse, but I still didn't know I was in labor. I kept thinking it was just pregnancy back pain. I thought it was exaggerated that we were going to the hospital since I knew they were going to give me some pain killers, let me rest, and send me on my merry way. When we arrived at the hospital, I still managed to go to the bathroom before making it to the obstetrics ward. While we were there in the waiting room, my back pain was so severe that I couldn't sit on the chair, so when the midwife came to call me into the examining room, she was surprised to find me on squatting on the floor. We went into the examining room, and it was all a blur after that, it was 1:45 am.
She examined me, and then asked "Did you want to get the epidural". I thought this was a strange question for back pain, and then she continued "You are 8 cm dilated, I am not sure if there is enough time". At first I wasn't sure if it was because she was speaking in French and I was tired but I didn't really understand what she was saying. I understood, but it didn't seem real. She transfered me to the delivery room and then said, "This is going to go by very fast, I will explain later", I was not reassured.
After a quick look at my pelvic scan the doctor said she did not think that my bones were wide enough to deliver the baby. She continued to say that we would try, since the baby was so small to see if he could be delivered vaginally, but that I should be prepared for the possibility of a cesarian. It wasn't until this moment that it all hit me, Nathan was coming now.
We were not ready, the nursery was still not finished, and we didn't have our hospital bag, and then I thought of my mom. She was supposed to be here, and she doesn't even know what is going on! The panic grew when the midwife came back to tell me that at 36 weeks, Nathan was still considered premature and that I should be ready for the possibility that he might have to go into neonatal or the incubators. I was still in shock. It was 2 a.m and the anesthesiologist was there for the epidural. They sent Cornel out of the room and I was balling my eyes out.
After the epidural, I was feeling much better. The pain had subsided and in the meantime Cornel had called our families to let them know what was going on. He also managed to go back home (thankfully we only live 10 minutes away) and get the bags. When he came back, the midwife asked if I knew how to push. This is ironic since we still had not finished our birth preparation classes, and it was that next wednesday when I would find out how to push. She gave me a crash course on what I needed to do, she broke my water and Nathan dropped, it was 5 am.
I was prepped and started pushing by 5:15, the doctor came in at 5:20 and after five pushes Nathan was out at 5:35 am. I couldn't believe that this tiny little person had been inside me the entire time. I started crying and I looked over at Cornel who was also crying. We had our son. We got to spend an hour together before they took us to our room and before Nathan was put into a warming incubator to regulate his body temperature.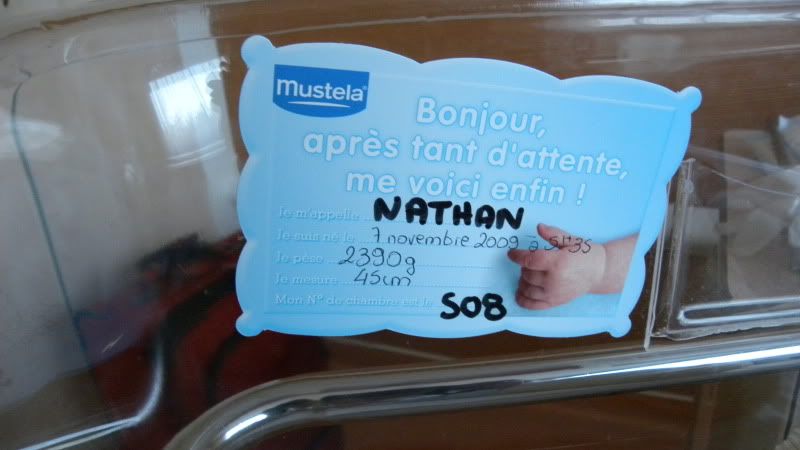 The first few days were hard, he was born very small at 2.39 KGs (5.3 pounds) and with jaundice. When he wasn't in the warming incubator he was in the "tunnel", the special incubator for the jaundice. He was getting his blood drawn every day and his little hands were purple. This was augmented by the fact that Cornel was super busy at work and couldn't get any time off.
Now we are all safely home and I am so happy to have an extra month getting to know my little one!