Well Cornel and I just got back from 3 weeks of vacation in the States, and it was a little bittersweet for me. It was amazing to be able to see my friends and family again, but so sad to leave them, and now I feel like I am going through the readjustment period all over again.
The trip started off with one week in Atlanta, where I got to spend time with my two of my greatest friends, Nate and Brent. Since they were working during the days, Cornel and I had to find ways to keep ourselves entertained. This wasn't too hard to do since I had one major objective while back in the states, SHOPPING! Our days were filled with trips to Best Buy (where Cornel got himself a very nice new camera) and of course the Georgia 400 outlest where I stocked up on a new Coach purse and finally bought some maternity clothes. There were also miscellaneous trips to Target and I had completely forgotten how much I absolutely love that store!
And of course, you can't forget the food. Weeks before our trip, I had already been making a mental list of all the things I wanted to eat and all the places I wanted to go. It was so wonderful to stop into Starbucks and have a Skinny Vanilla Latte again (decaf of course)!
I won't forget one of my favorite breakfast places in Atlanta, The Silver Skillet!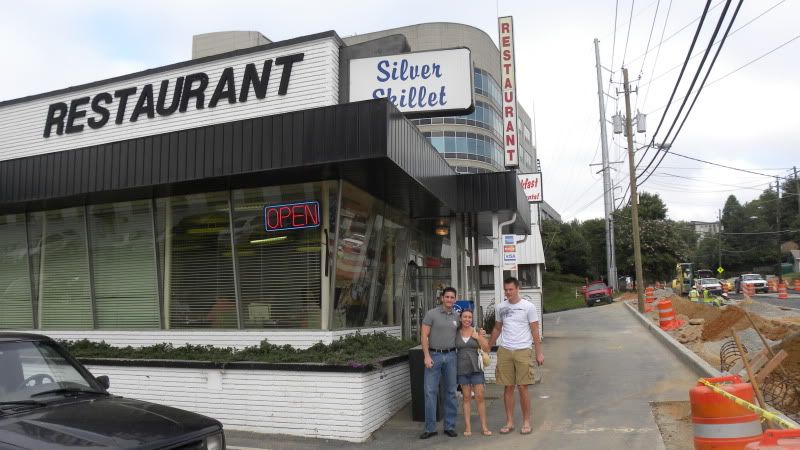 I was introduced to this place by Nate a long time ago, on one of our very hungover Sunday mornings. It is your typical diner style dive restaurant, where all the waitresses are old, cranky and full of bite. If you ever make it to the Silver Skillet for breakfast, I suggest going on a weekday to avoid the line, as for what to eat, make sure you try their Super Skillet breakfast, and always ask for biscuits!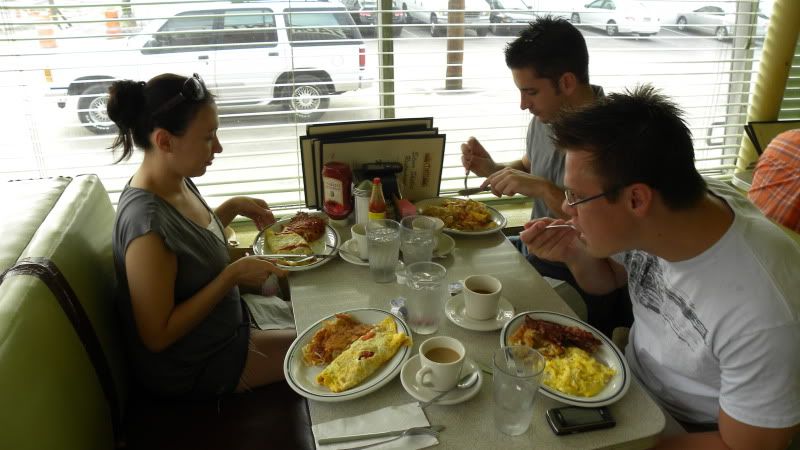 The baby was definitely happy after this breakfast! I also got to eat at Willy's. There is nothing like American style Mexican Nachos! Sadly, I couldn't drink the Margarita, but Cornel was a trooper and he had one for the family!
The icing on the culinary cake was life fulfilling dream trip to the Chik Fil'A Dwarf House. When I first heard of this restaurant, I thought it sounded a little discriminatory, I mean really, a house for dwarfs? I had always wanted to go, but had never had the opportunity... luckily this year was different, and I was not at all disappointed!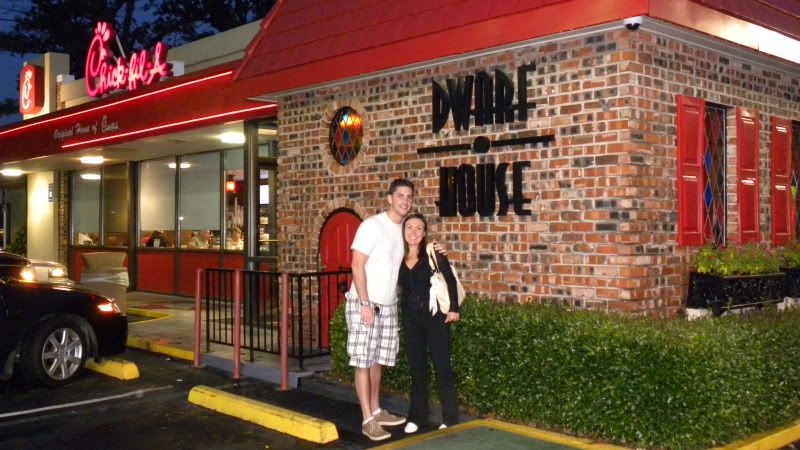 When I got there, it made a little more sense that it was called the Dwarf House, since the inside motif is the seven dwarfs from Snow White. It is also all the food from a regular Chick Fil'A but in a sit down restaurant. I discovered the best part as I was leaving the restaurant, a DWARF DOOR!!
Just my size, and of course, Nate and I had to crawl through! This was truly the trip of a lifetime!
Other than eating, I also got to visit Atlanta for the very first time in my life. I had gone to Atlanta every weekend when I lived in Greenville, which would make it about three years of weekends but had never actually visited Atlanta. Since Cornel had been a tourist in Atlanta
about three years ago, he decided to show me around (ironic isn't it!). We visited the CNN center, which is a very interesting tour, however they don't let you take pictures. It is very interesting, especially when you watch them do a live broadcast! It looks nothing like it does on TV.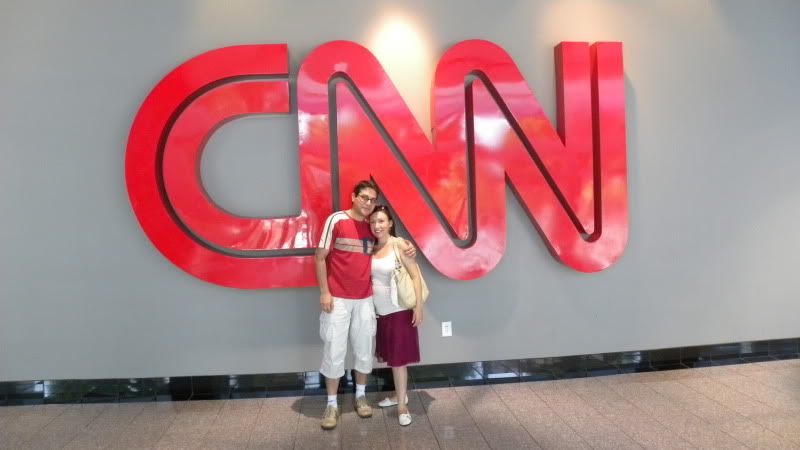 Then of course, there was the World of Coke!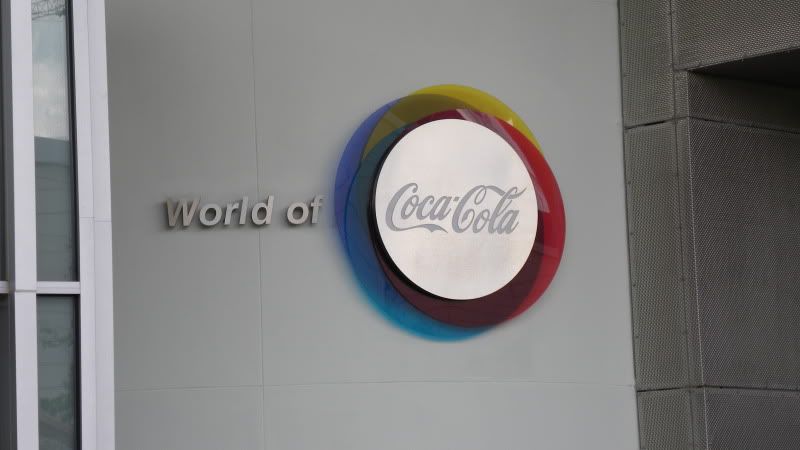 What a great place...it is worth the price of admission just to try all 64 different coke products from around the world! Of course, I found the caffeine free diet coke machine and basically stayed there until my bladder could no longer take it!
Then of course, you get to take your picture with the infamous Coke Polar Bear (which is a little scary in person) and see all of the Coke Memorabilia and Coke Pop Culture!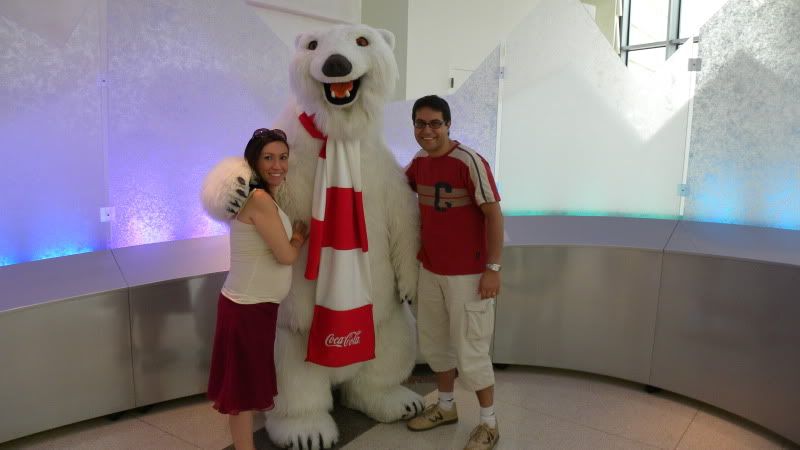 My favorite, of course, being the American Idol Couch!! There is also a fun 4D movie you get to enjoy with these very cool glasses! However, since I am pregnant, I couldn't sit in the moving chairs, so for me the movie was only in 3D, but still fun however.
There is also the cute souvenir coke that you get to take with you!
After visiting coke, we took a walk through Olympic Centennial Park and just enjoyed the nice sunny weather, which we had hardly seen in Clermont-Ferrand.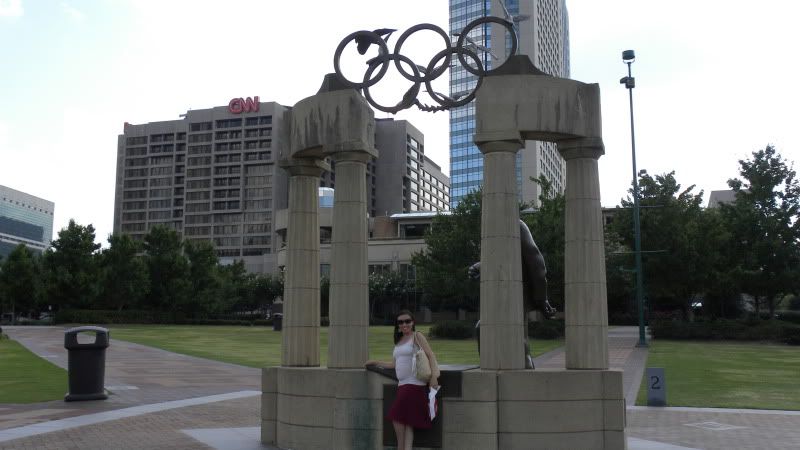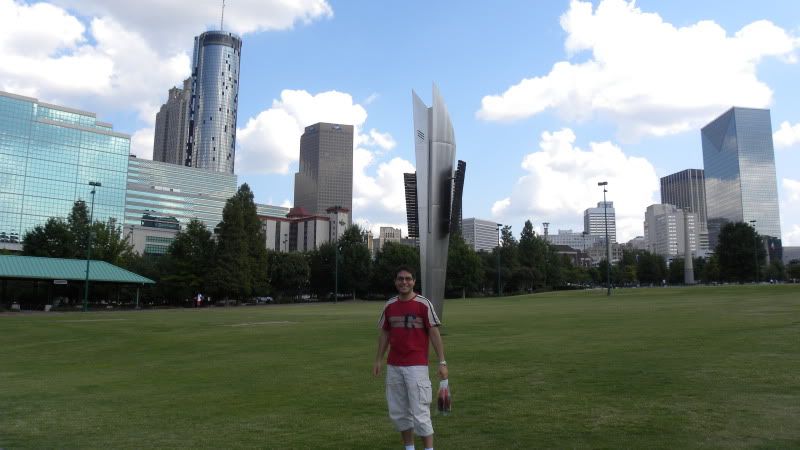 While in Atlanta, we were also very fortunate to have the opportunity to see Sir Paul McCartney in concert at Piedmont Park! This was the opportunity of a lifetime, there aren't very many chances to see a Beatles perform anymore and really, who knows how long they will be alive or in singing shape! The concert was outdoors at the Park, it was a very and nice day, until the black clouds started rolling in, and then watch out! It started to pour and of course they had forbidden you to take any umbrellas, and so, woodstock style we partied in the rain with Sir Paul. Luckily it was warm and and there was very little risk that we would catch pneumonia! The concert was amazing and so much fun, especially once the old Beatles songs started playing!
The best part about this vacation, however, was my attempted arson of Brent and Nate's apartment. To start at the beginning, Nate is turning 30 this year in December (Happy Birthday Nate), but since I will be in France having a baby I won't be able to go and celebrate with him. Being the sweet and caring friend that I am, I thought I would surprise Nate with a birthday celebration in August! I went and bought gifts and an ice cream cake at Dairy Queen (they are delicious) and had everything ready for when he arrived home. I had cooked a nice Lasagna dinner and after dinner, I snuck into the room to light the candles on the cake. I didn't want to have to go back and get the presents so I attempted to carry the gifts and the cake out together.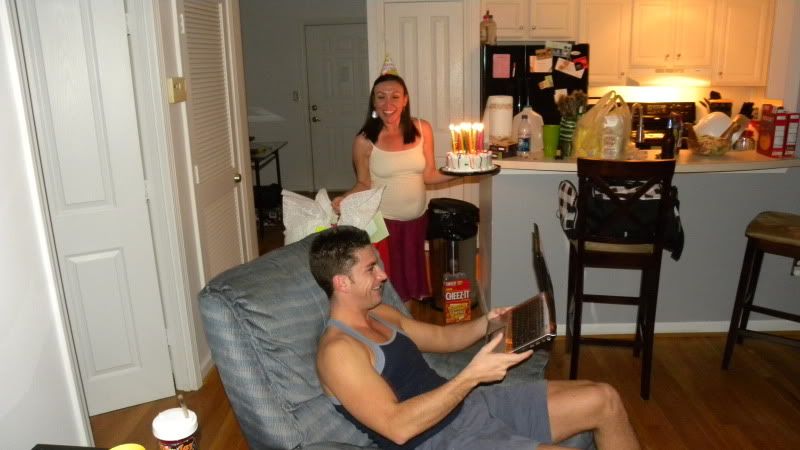 Bad idea! As soon as I came out the cake started sliding and I held it up against myself to try and keep it off the floor, and I didn't notice that one of the candles had fallen into on of my beautifully wrapped gift bags. While everyone was so worried about picking up the cake, no one seemed to notice that the tissue paper and gift bag had gone up in flames! Once the cake was saved we tried to extinguish the fire with water from glasses and the hose in the sink. After a minute, the fire was out, but now I have a nice story to tell and the burn marks to prove it!!
After a week it was time to say goodbye to Atlanta before heading out to visit my family in Arizona. It was so great to spend time with Nate and Brent and see them again before their trip out to Europe next Spring! And, I can't believe I am saying this, but I miss the South. If and when we go back, I would strongly consider moving back in this area!