To start at the beginning, I had been very depressed that since living in France I would not be able to have a baby shower. I know that having a baby shower is not the most important thing, but it is something I had always pictured when I thought about being pregnant; getting to share those special moments with family and friends. While I have very nice friends in France, baby showers are not traditional and in fact they are seen as bad luck (celebrating a baby before it arrives), so I knew that there would be no such celebration as long as I was here.
When I told my mom how sad I was that I wouldn't be having one she suggested throwing me one while I was in the states on vacation. I was so happy, that of course I said yes! My mom was ecstatic in grandma planning mode, buying things for the baby, buying things for the shower, and then we got a slap in the face from my cousin's wife. She is also pregnant and when she found out that I was having my baby shower while I was there, she scheduled hers for two weeks before. This meant that some of our family would have to decide to go to hers or come to mine. I was devastated, not only because she could have had hers months later, but because this is my first child and I really wanted to share this special time with all of my family and friends. Especially since I was flying half way across the world to do it. In the end we decided to continue with the plans and let things happen as they would.
Since we knew it was a boy, planning the decorations were much simpler. My cousin is a fabulous party planner and she handled all of the decorations and arrangements, including the corsages that we would hand out to all the women, and of course my corsage of honor!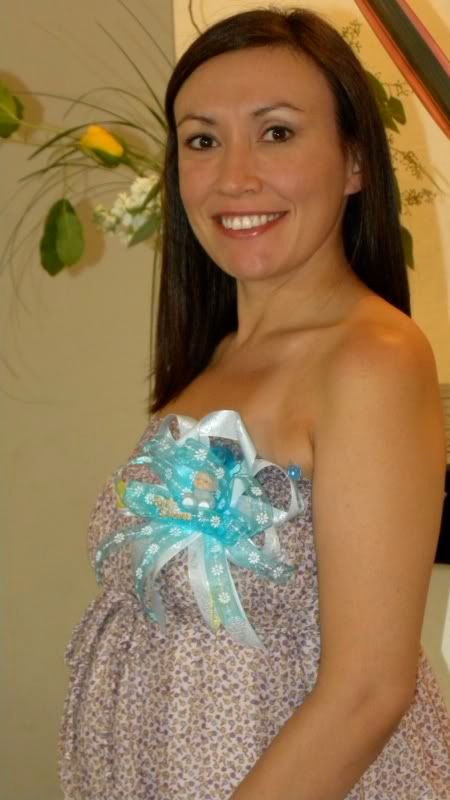 Since half of my family lives in Mexico, we decided to have the baby shower there and we rented a very nice small hall to accommodate everyone.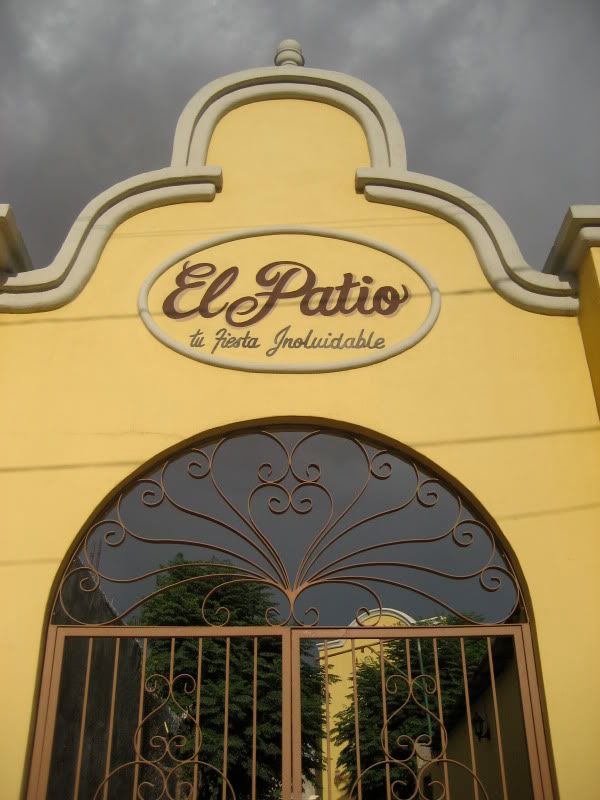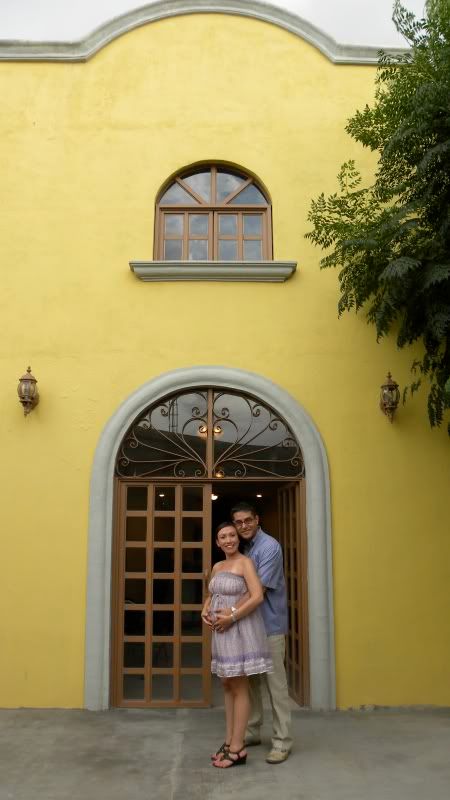 When we arrived the day of the shower to start setting up,I could not believe when we walked into the hall to start setting it up, all of the centerpieces and details were incredible.
My cousin had taken these simple vases and wrapped them in diapers with a little baby boy. Then there were the baby blocks that were filled with blue chocolate kisses, and of course the napkin rings which were blue pacifiers! Then of course there were all of the decorations that were hanging from the ceiling.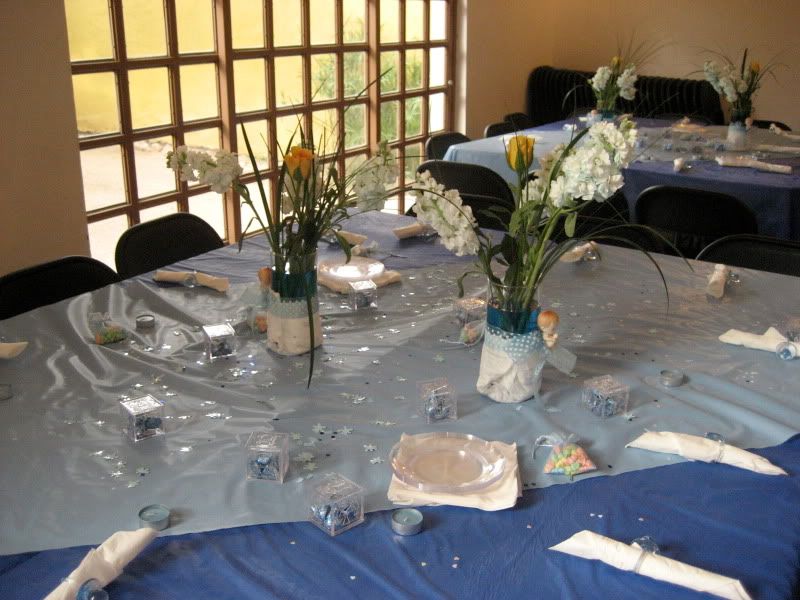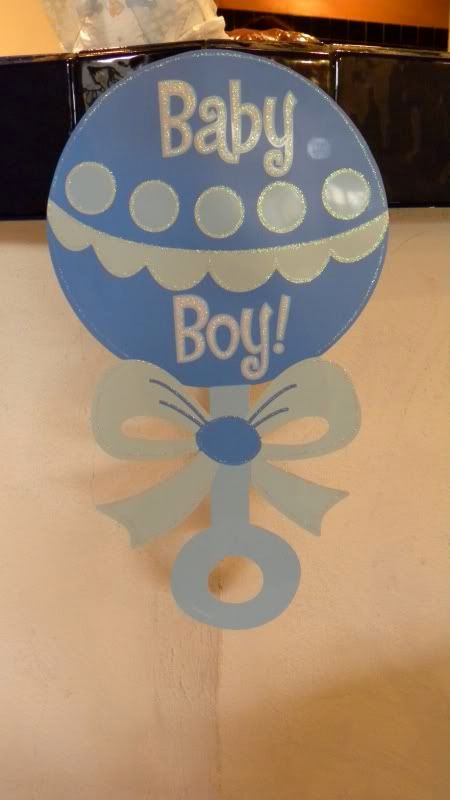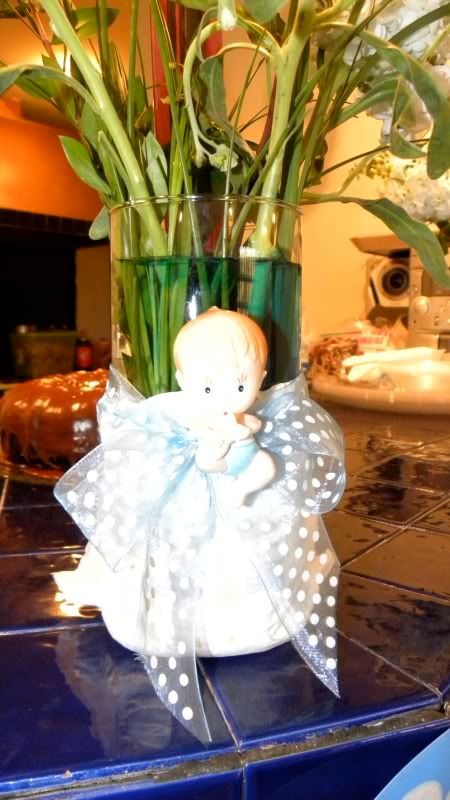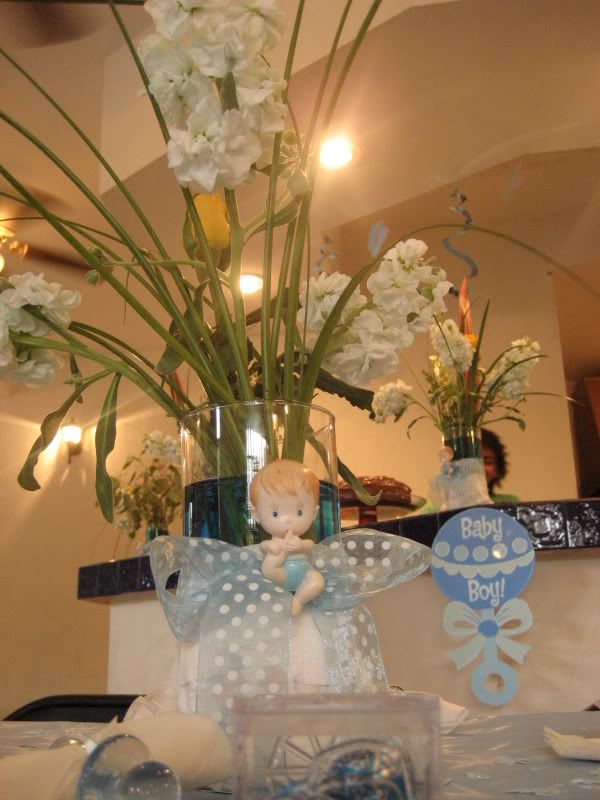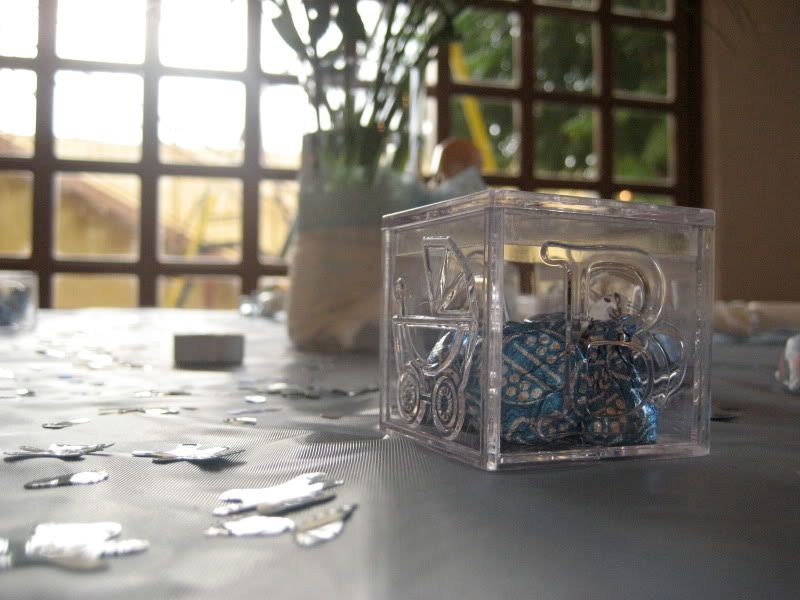 Then of course there was the fabulous menu, also created by my very talented cousin. For starters on the table we had homemade dips, cheeses and different appetizers.
For the main course we had stuffed chicken breasts with mashed potatoes, and for desert, you choice of cake! We had over six different types of cakes to choose from! My favorite was the typical baby shower cake which was chocolate with fresh strawberry filling! Delicious.
We played the typical baby shower games, but what made it more special was the fact that my friend Maricurz, whom I hadn't seen in over three years drove down from Tucson to celebrate with me. We have been friends since Jr. High School, and now I realize that true friendship really does last a lifetime. It was also great that my little sister drove three hours for the occasion, especially since we never got a chance to see each other while we were both living in Europe. I had to go all the way to Arizona to finally see her again! And then there were all the family and friends that showed up for the occassion, including my aunt, cousins and niece that made it from Tucson! I truly felt blessed on this day, and know that my son will be blessed to have all these people that love and care for him in his life.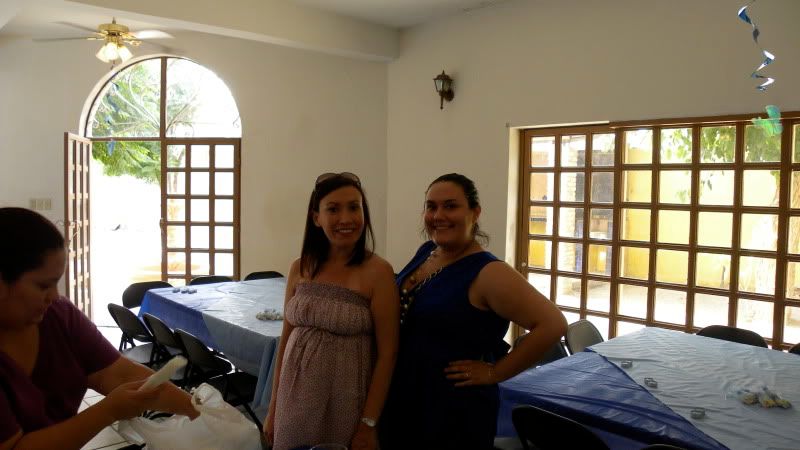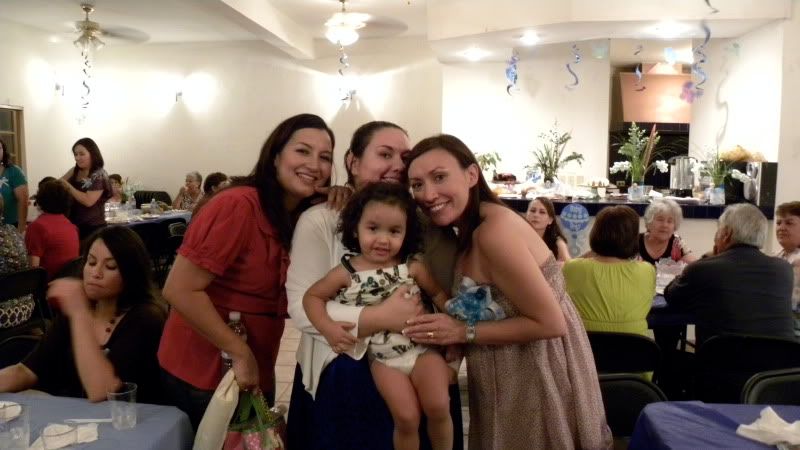 Cornel, my dad and my uncle all showed up at the end for opening gifts! Since this was only Cornel's third trip to my family's, there were a lot of people who hadn't met him. He made his rounds, had some cake, and then came our favorite part...the gifts! We received so many great gifts; all things we needed - adorable clothing and accessories, including hats and bib that my sister hand knitted, a hand knitted blanket that my aunt from Hermosillo (five hours away) had sent.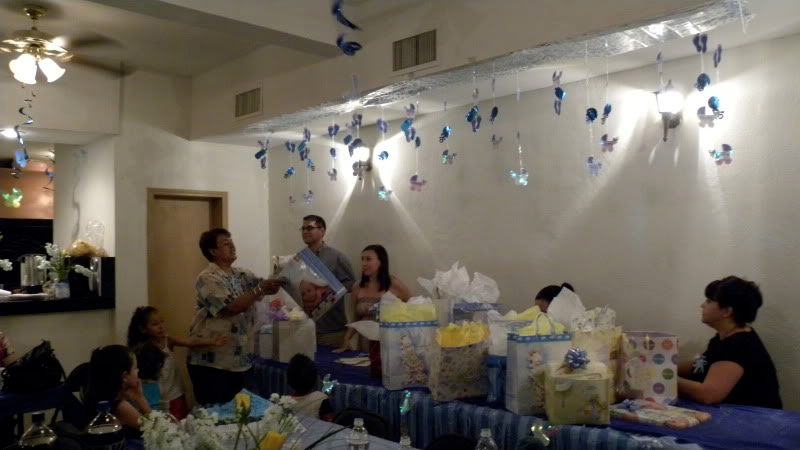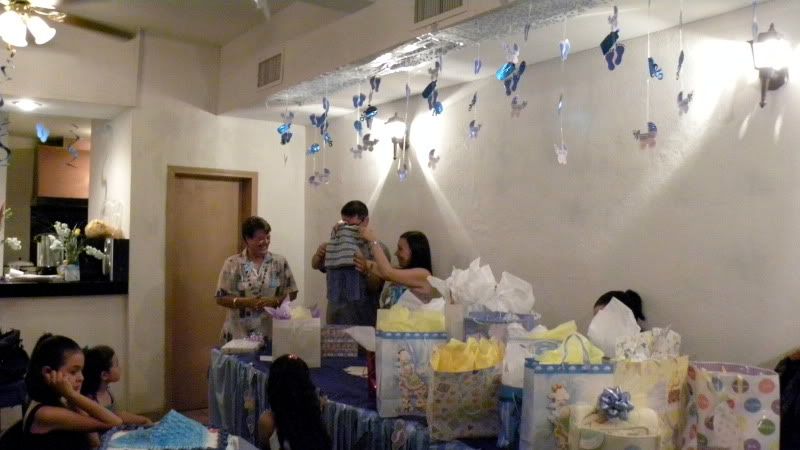 The day and night had been perfect. I could not have asked for anything more. It was so much more than I could have ever imagined.