This year was my first year celebrating La Fete de la Musique (the Party of the Music) and I have never experienced anything like it.  At the end of every June, every city in France celebrates La Fete de la Musique and living true to it's name they celebrate Music.  There are live concerts on every corner, people dancing and singing.
Since this is the first time I was in France for this event, I wanted to see what it was all about.  I could never have imagined what I saw.  I guess let me just start by saying that Clermont-Ferrand is not a town with a lot of life, especially at night.  The downtown at Place Jaude is very cute and charming and so is the area with the cathedral...filled with many cafes with sidewalk terraces, however they are almost always empty.  
I don't understand why there is never anyone on the streets, but it is something out of a scary movie sometimes, when at sunset all the life and movement of the city dies and all the streets become deserted.  I guess I didn't expect much knowing that the Festival didn't begin until 7 p.m., on a Sunday.  
We started off going to Chamalieres (the suburb where we live) to the Jazz Concert.  The music was fun and the park was cute with a few people enjoying the show.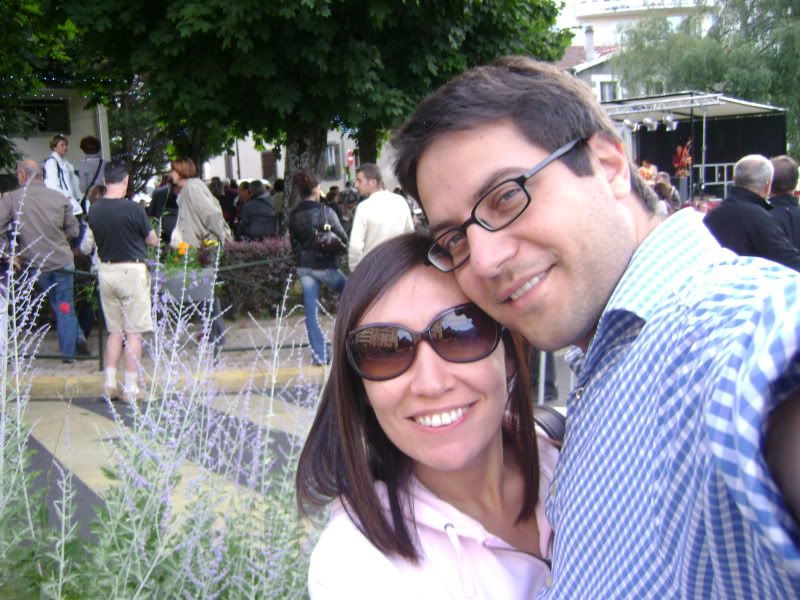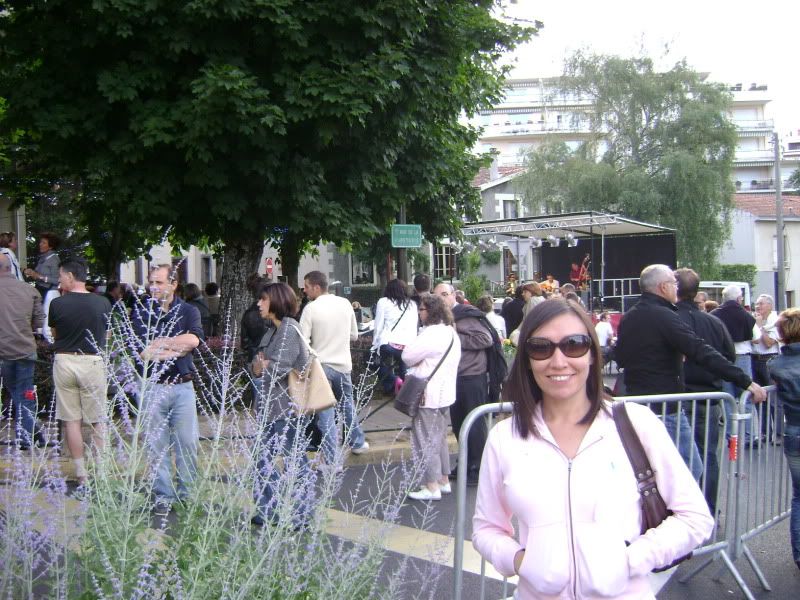 Since there was very little activity we decided to head downtown to Place Jaude to see the festivities that Clermont-Ferrand had to offer.
When we arrived we saw the main stage set up in the center of the Plaza...with two white French guys rapping.  It was very interesting and painful to say the least.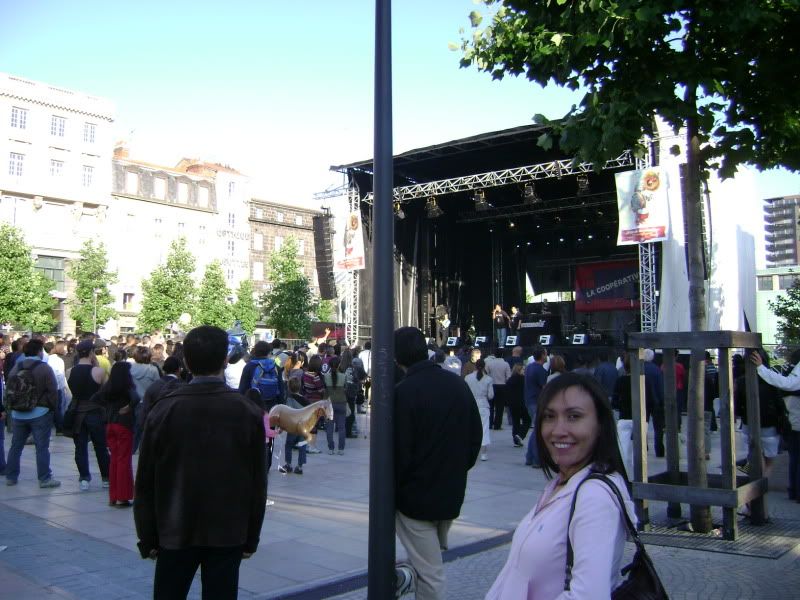 What really surprised me was to see all of the people outside!  Where had they all come from and more importantly where have they all been hiding?!  It's as if every person in Clermont-Ferrand waits until June to make their one and only annual appearance!  It was like a completely different city all together!  I couldn't believe it.  Rather than question it... so we decided to just enjoy...but not the french rap...so we moved on!
We came across all kinds of interesting music...African Drum music, high school brass band, French singers singing in Spanish, DJ's playing techno.  Truly all kinds of music!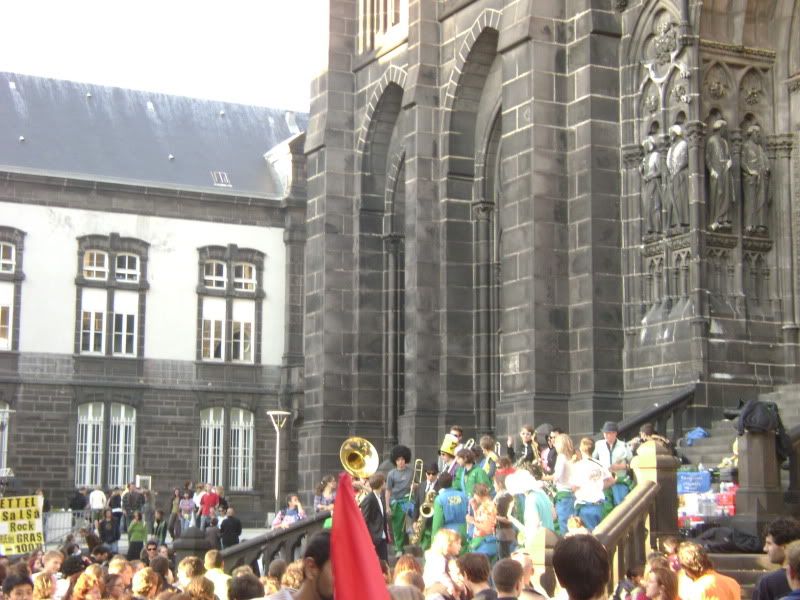 My favorite was the cover band that was doing American 60's songs at my favorite bar, the brewery Freres Berthome!  If I was in a stage to be drinking, I would have planted myself at this bar enjoying the happy hour and the great music.  But alas, this was not the case so we moved on.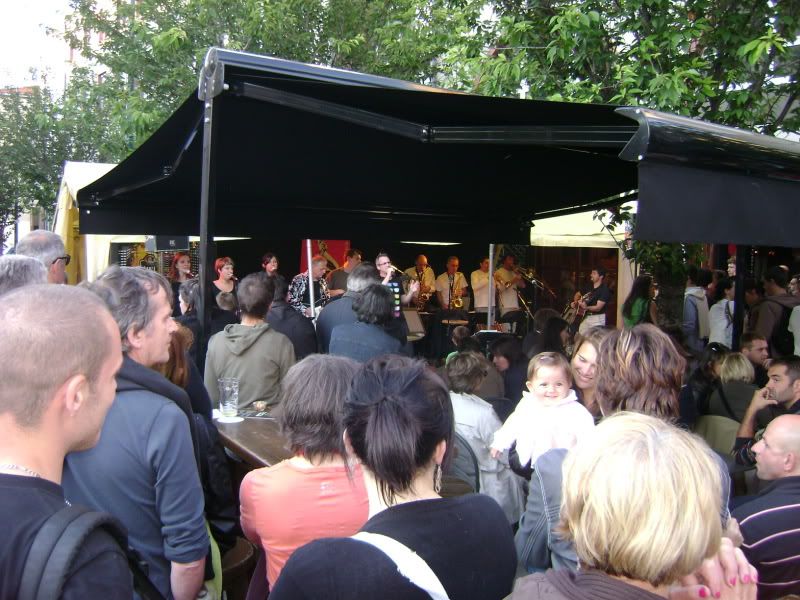 I couldn't believe the view standing at the bottom of the street looking up toward the Cathedral.  It was full of people!
After touring all of the little corners of downtown Clermont...and since it was 10:30 p.m., we decided to stop in at Place de la Victoire and enjoy a light dinner.  We had crepes (galettes since they were not sweet) and enjoyed the music playing on the stage!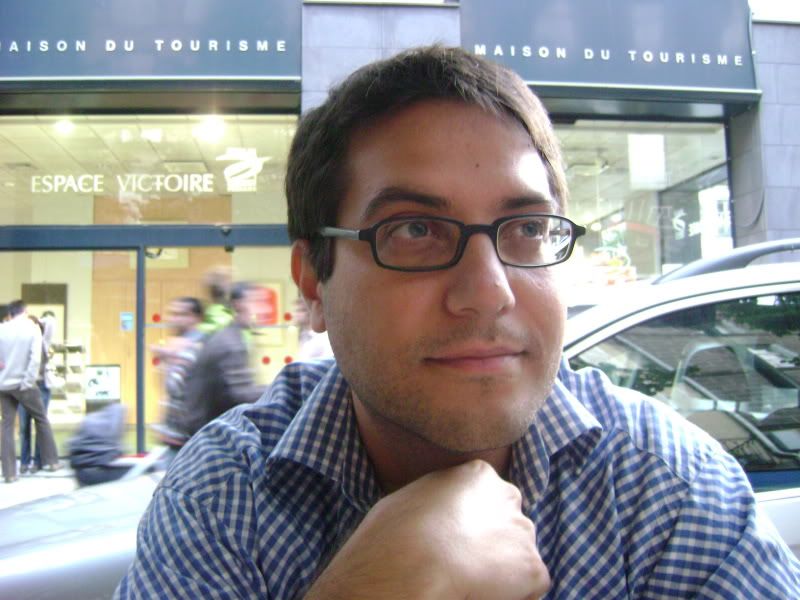 The only downfall of the entire festival was the weather!  It was absolutely freezing which made standing outside to watch the bands a bit unbearable...so after dinner we started walking towards the car.  We stopped in a bit to watch the fire eaters and to dance a bit with the Brazilian band making their way up to the streets!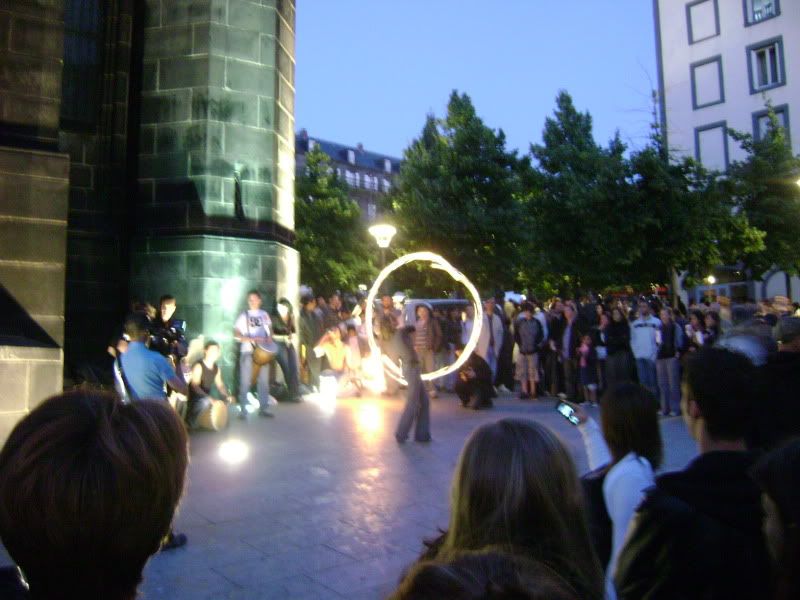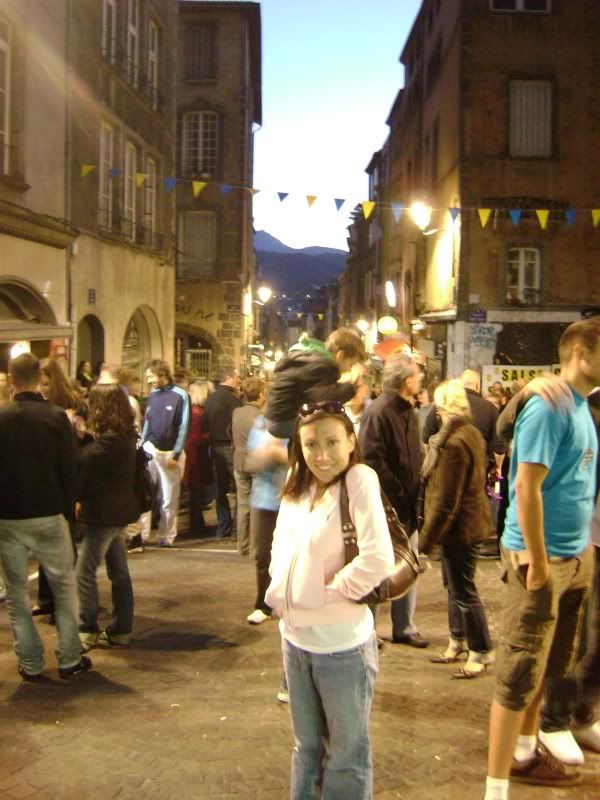 Sadly the music festival came to an end and I am looking forward to next year.  This is truly something that should be applied all over the world.  A time to celebrate all different kinds of music for free; and who doesn't love dancing in the streets!