The day after Thanksgiving we were off to Barcelona. None of us have ever been so we weren't quite sure what to expect.
Barcelona is only about 5 hours away by car, but since Cornel was going to meet us later we decided to go by train. Rather than spend all day traveling we decided to spend the night in Montpellier and then continue our trip south of the border.
We took the train out of Clermont where Nate and I did something we hardly ever do….
… READ!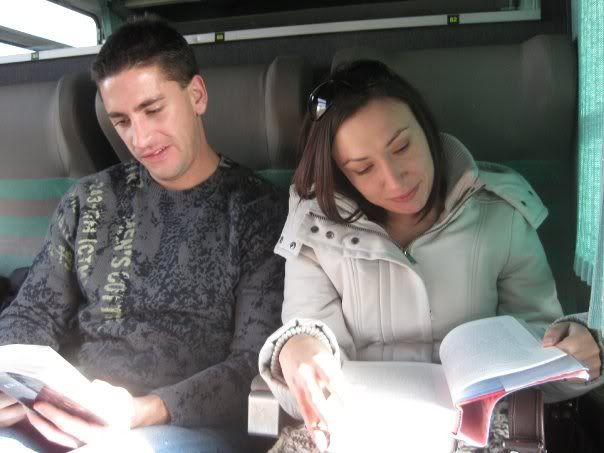 In the early afternoon we arrived in Montpellier, a very beautiful French city bordering the Mediterranean.
We checked into the hotel, where each room had a different name – they mistakenly put Nate in the wrong room, because this is the room where he belonged.
The weather in the south of France was much warmer than in CFE so we decided to head off and do a little bit of sightseeing. Our hotel was near La Comedie, the opera house of Clermont-Ferrand, so we started there, especially since they had already put up all of their Christmas decorations.
We went down to their Arc de Triomphe and around a little bit more before stopping to have some dinner, where apparently the chocolate mousse was delicious!
The next morning we boarded our train to Barcelona!
With only a hotel map and a metro card we began our self- guided tour of Barcelona. We arrived at La Rambla neighborhood, were we went to Plaza Catalunya. Much like the Piazza San Marco in Venice, there were pigeons everywhere looking for people to feed them and they did not take it very well when you approach empty handed!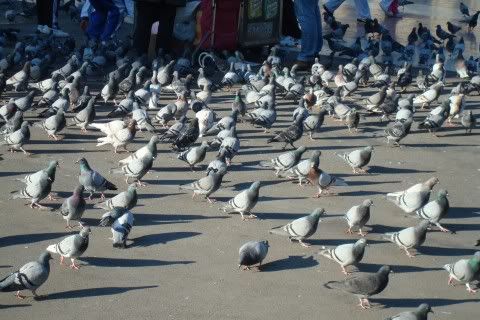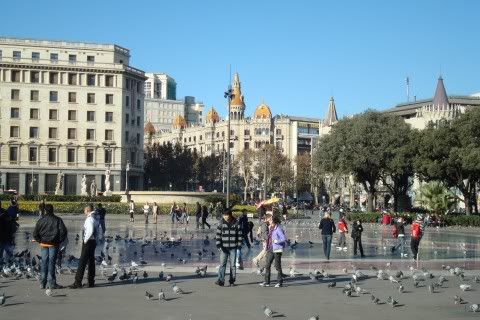 We continued our walking tour and ended up at the Cathedral downtown. It was very pretty and it had a little bird sanctuary in the middle.
We walked through the cobblestone streets, stopping occasionally for a drink and some tapas.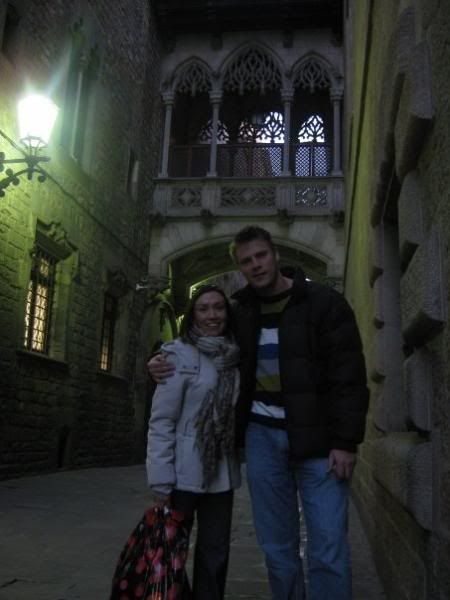 We went back to the hotel early so that we could prepare to go out clubbing that night.
We set out around 9 p.m., to an area we knew there would be clubs, however after wandering for a few blocks we didn't see much night time activity, so we popped into a local bar to gather our thoughts.
The waiter knew English so he told and showed Brent exactly where we needed to go. With Brent leading the way; we were off to a club supposedly called "El Caliento".
We wandered four around 10 minutes, and there was no club, we wandered a few more blocks when we saw a club, with Brent looking up at the sign saying this is it….Nate and I looked up and the name of the bar was "El Cangrejo", but I suppose it's close enough!
We went in and danced and drank and had a great time. Drunk, we finally went home around 3 a.m., having called it a successful evening.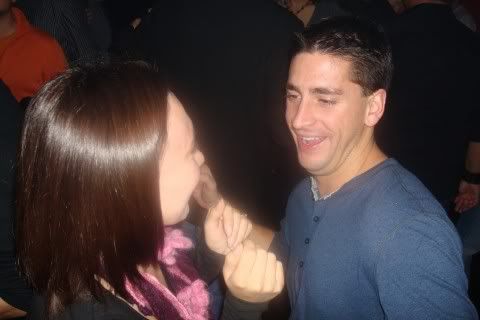 The next day Cornel drove down from Clermont-Ferrand to meet us in Barcelona. Since the self-guided tour had not worked so well, we decided to take the double-decker tour bus. It was cold, rainy and windy, but that has never stopped us before.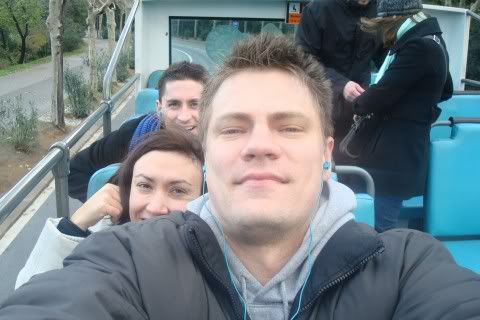 The first stop was Plaza Espanya, where they converted the old National Palace into an Art Musuem on top of the hill. The views of Barcelona from the top were beautiful, and your reward for having climbed all the way to the top, a bar right next to the entrance of the art museum.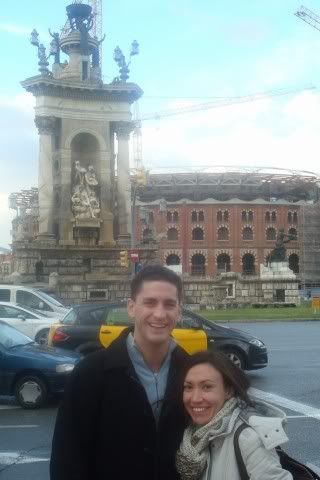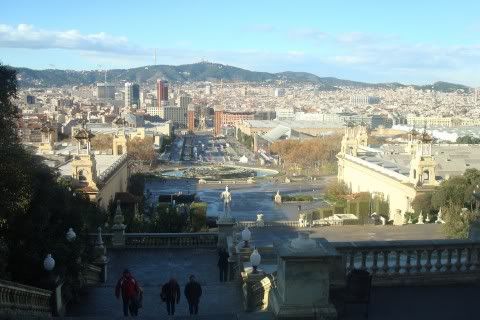 After the art museum, we walked up to the Olympic Stadium…and we hopped back on the bus to finish our tour of Barcelona. We went by the Port and got a great view of the Mediterranean.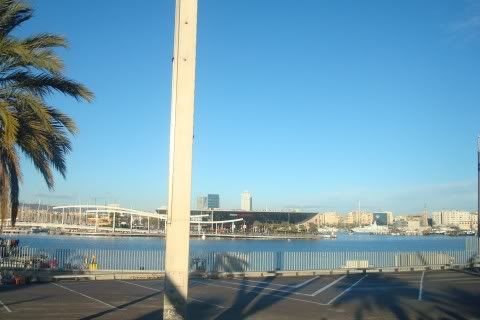 We also said hello to Christopher Columbus, who had sailed out of Barcelona on his way to discover America.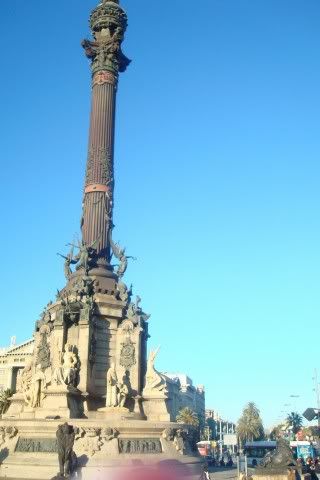 We got off the bus at la Sagrada Familia. A chuch whose construction began over 130 years ago, and to this day it is still not finished. The church's architecture is unlike any other I have ever seen, and it is impressive to see the inside of the church, which is still undergoing construction with the donations of people.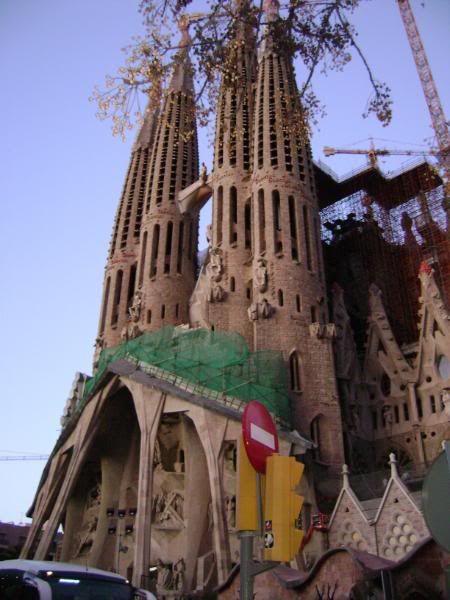 After la Sagrada Familia, we finished our sightseeing tour of Barcelona and made our way to have dinner at La Rambla, and to try some Paella (You can't visit Spain without having Paella).
After dinner, we walked around La Rambla, and of course found the red light district. We went into one of the Erotic shops, where I gave Brent 2€ to go into the peep show and report back.
We continued just walking the streets of Barcelona and found the bar with Happy Hour. It was a little ghetto, but we had fun nonetheless.
We made a few more bar stops…and what do you drink after having eaten Paella, Sangria of course.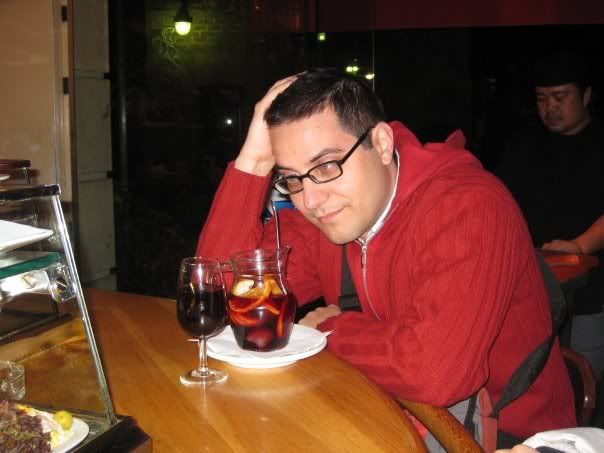 But be careful with the side effects…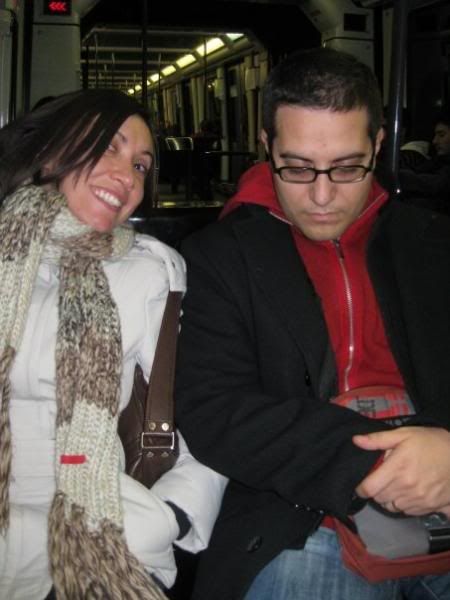 Nate and Brent left early the next morning back to the states and I was so sad to see them go, but we're already planning the trip for next Thanksgiving.
The next day, Cornel and I wandered around the port a little while longer before starting our drive back to France.