The weather I getting cold, the leaves are changing color and that only means one thing, summer is coming to and end and fall is just beginning.
This summer was filled with many firsts: my first summer in Europe, my first summer with my husband, new job, new countries…and I could go on.
I have to admit that the summer started off a bit shakey living in Manchester with the freezing cold weather, but once I got back to France, the summer started turning around.
If you are like me, it is not summer without sand, water and sun…so as soon as I got back home to Clermont, I wanted to get as much of those three things as I could!
We are very fortunate to live in a region of France that is surrounded by mountains and lakes; so one of our first weekends we went to Lac D'Aydat and enjoyed a nice afternoon in the sun.

We also had a pique nique with about 15 of our closest friends and co-workers at Lac Servieres. The weather was amazing and even Jean-Baptiste enjoyed a refreshing swim in the lake.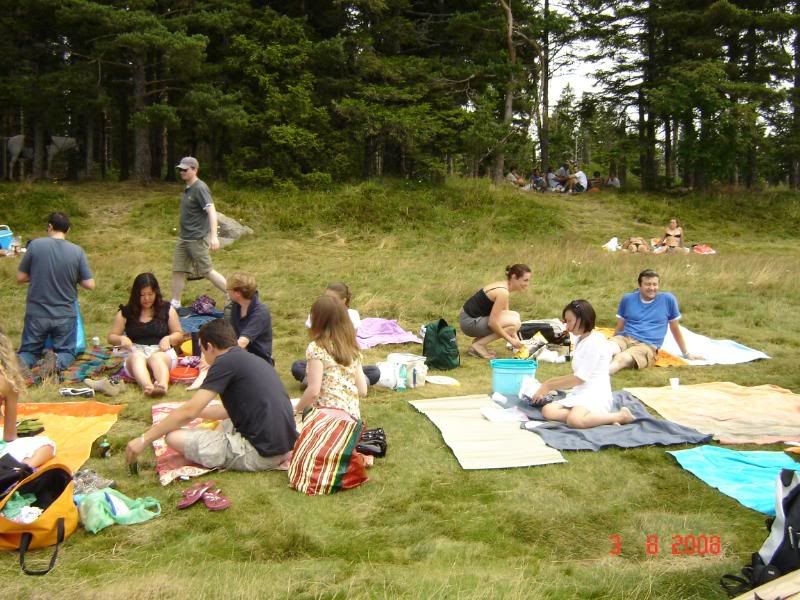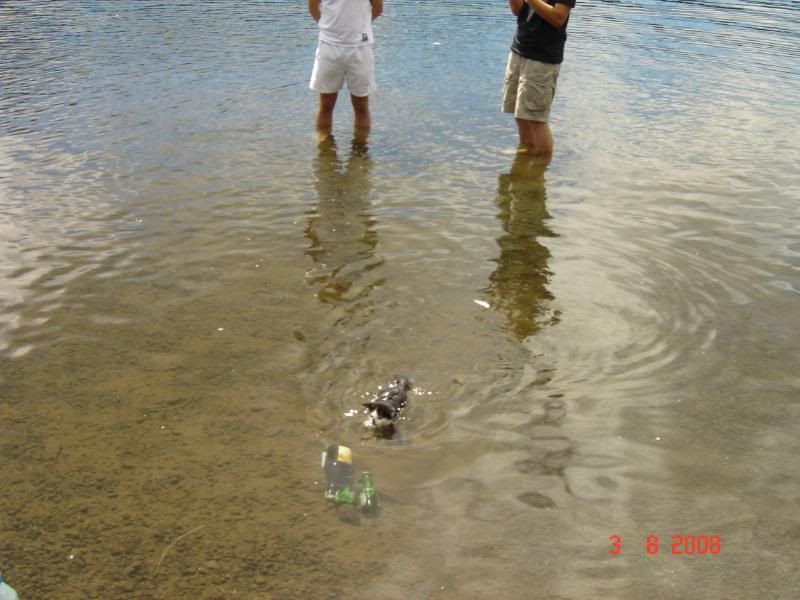 By far, my most favorite trip this summer was the weekend Cornel and I took to Montpellier. It is about a four drive from Clermont, so we left early on Saturday and arrived just in time to enjoy some sun at Palavas, a beach town just a few kilometers away from Montpellier.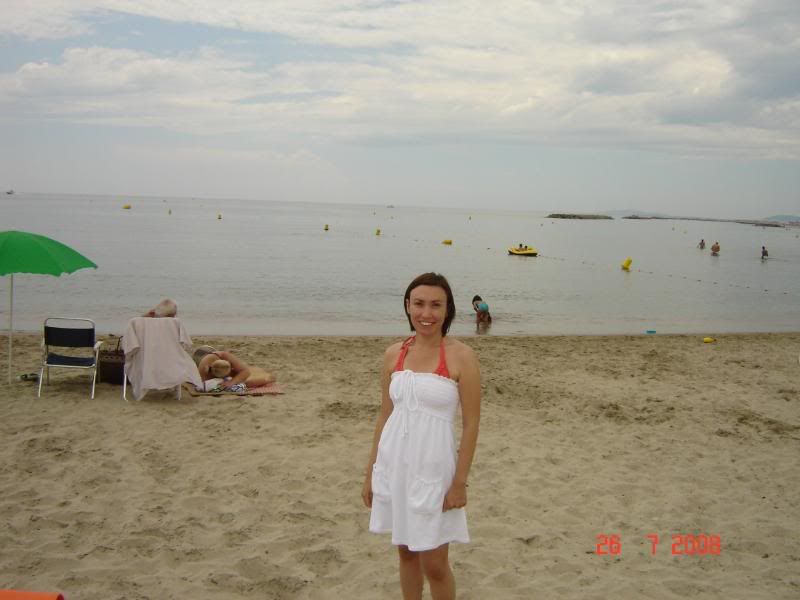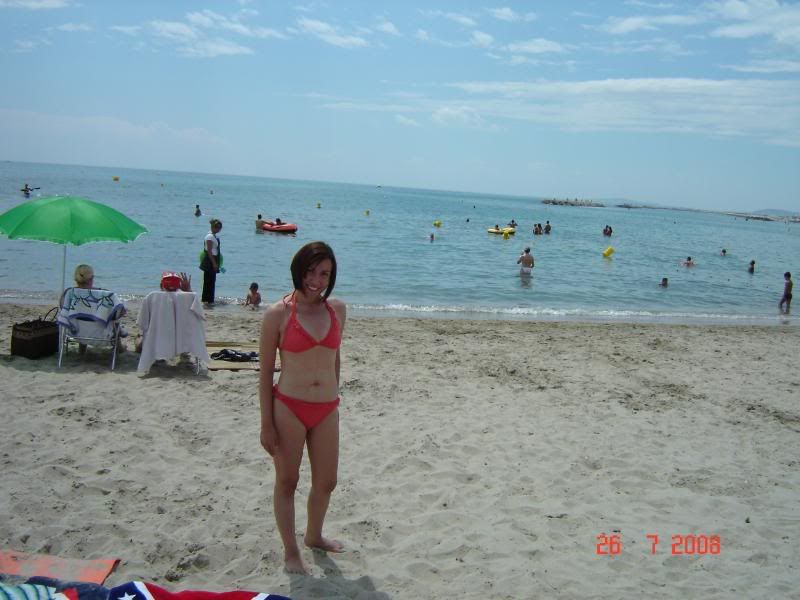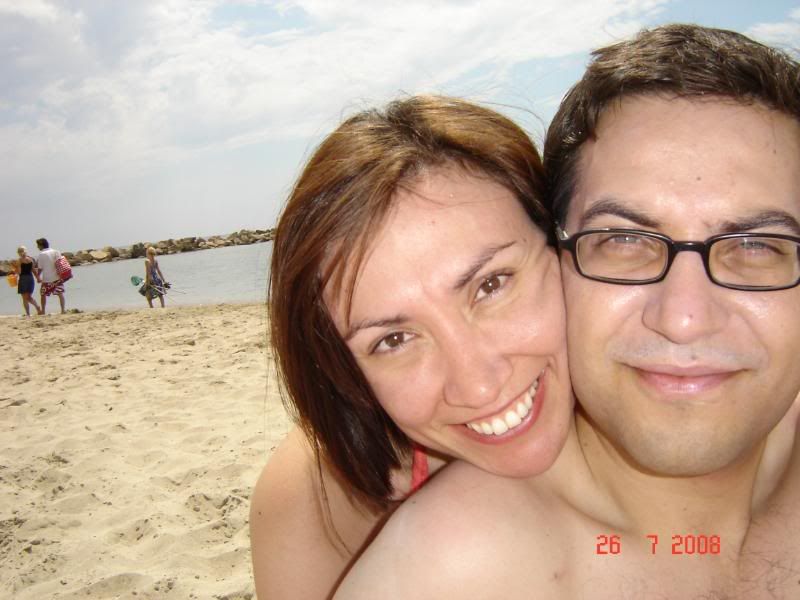 The Mediterranean Sea is so warm and the day was so nice, we baked a few hours in the water and in the sand before realizing we were starving.
We decided to have lunch at a nearby boardwalk and decided to have the menu of the day at one of the small restaurants, which included muscles and snails!!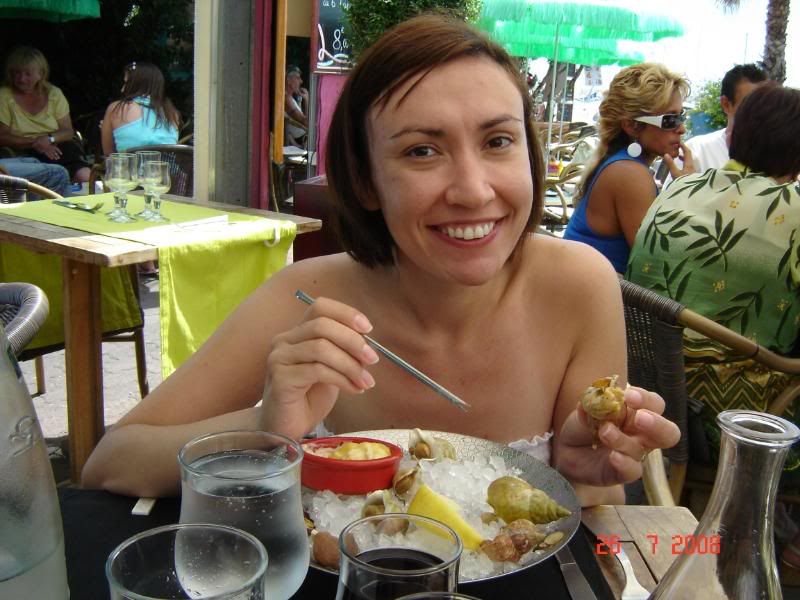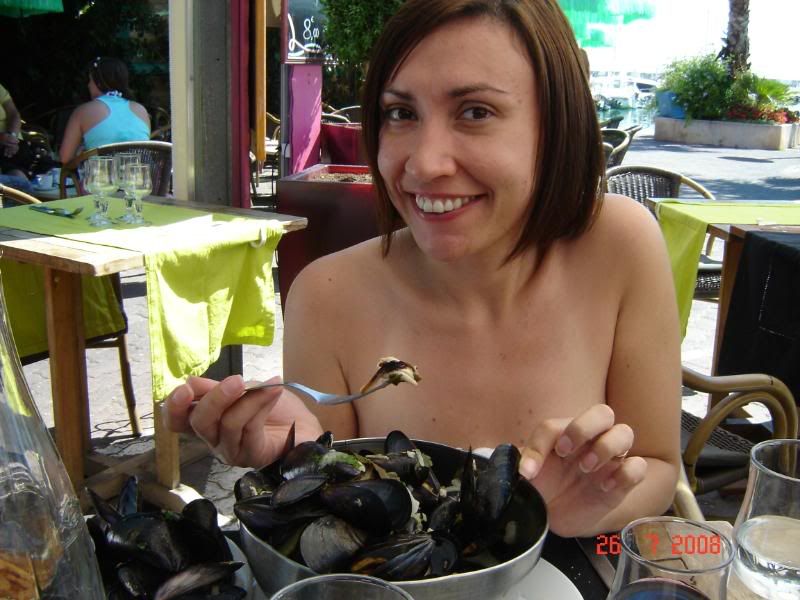 We ate way too much, and decided to walk off our meal around the boardwalk: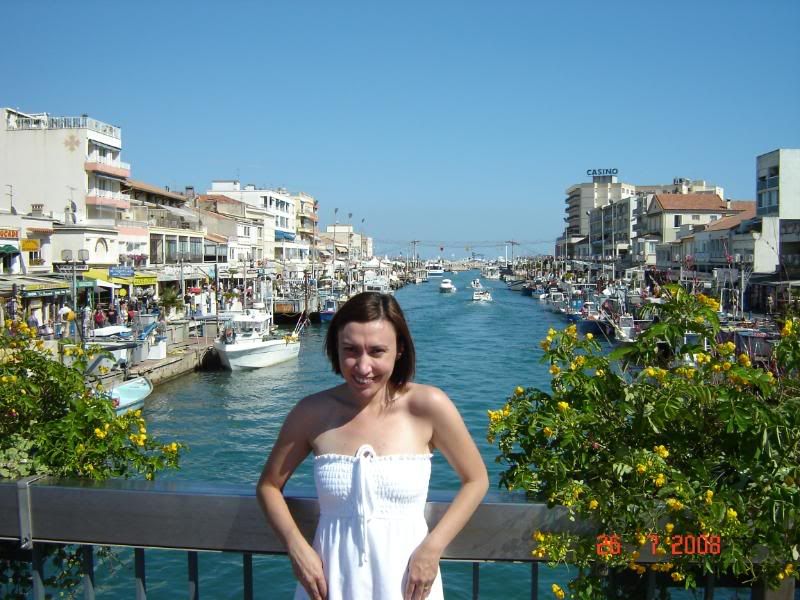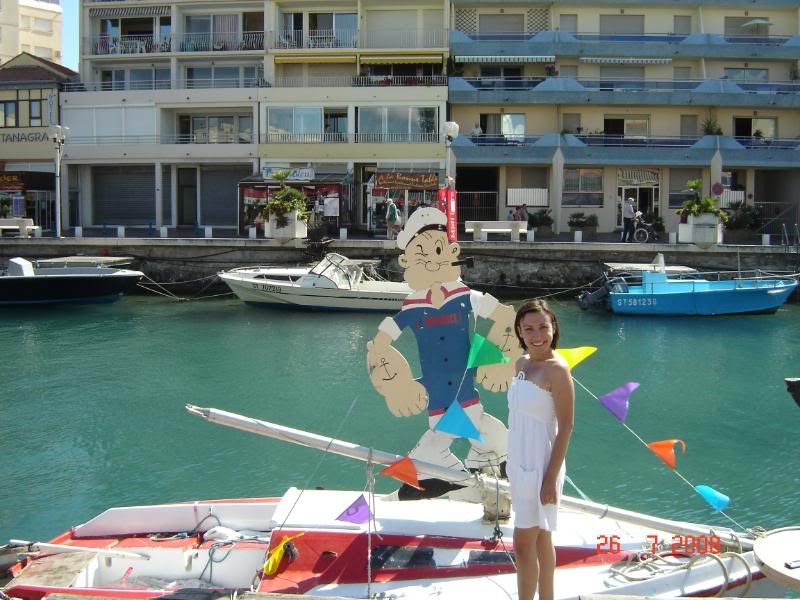 After walking down our meal we decided to head to the hotel to rest a bit and get ready for a night out in Montpellier. When we got back to the car it was like an oven, and the inside temperature read 41 degrees Celsius, approximately 106 degrees Fahrenheit…. like a spring day in Phoenix and it made me a little homesick.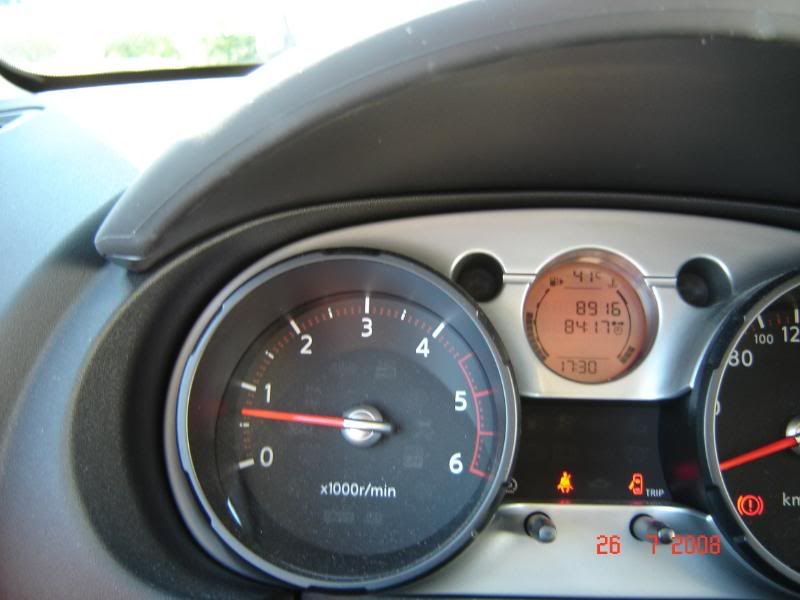 After showering and getting ready, we headed out to downtown Montpellier. The downtown is divided into two distinct sections; the new part with its modern architecture facing the river was stunning.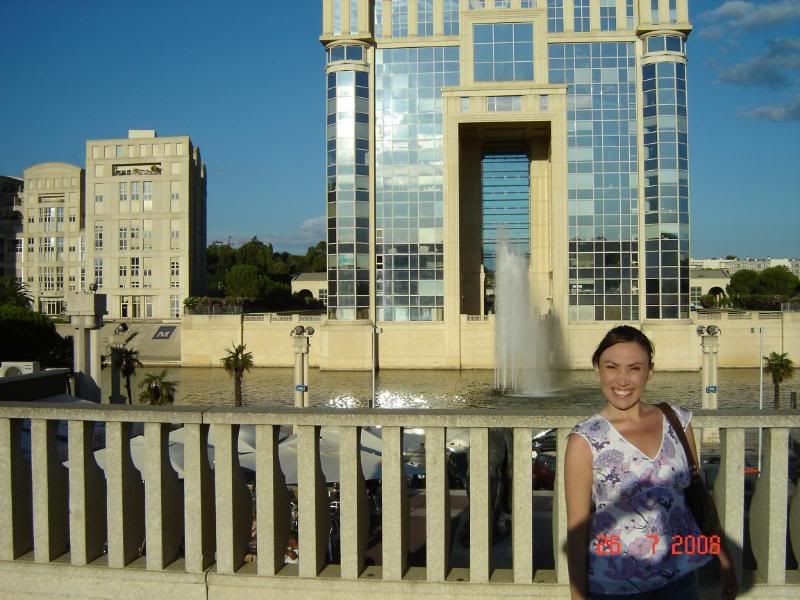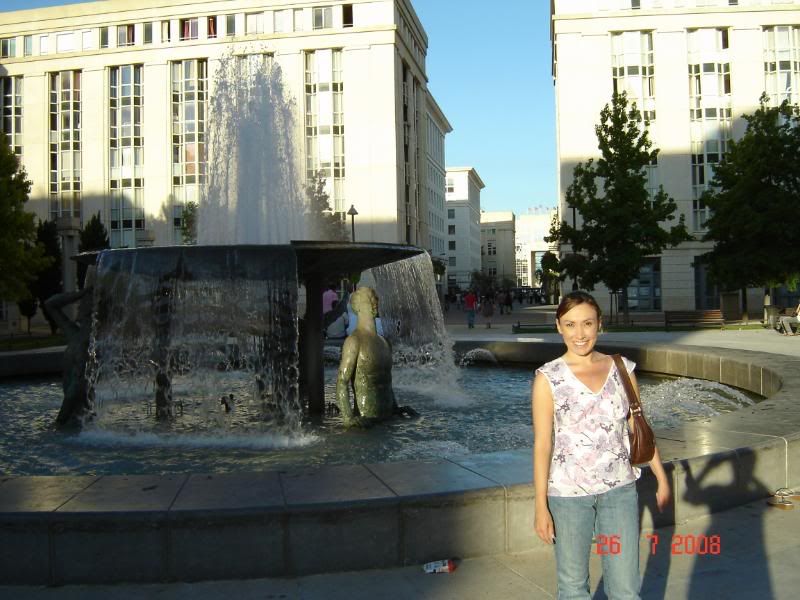 On the way to the old section we came across a Haagen-Dazs, which I found is American.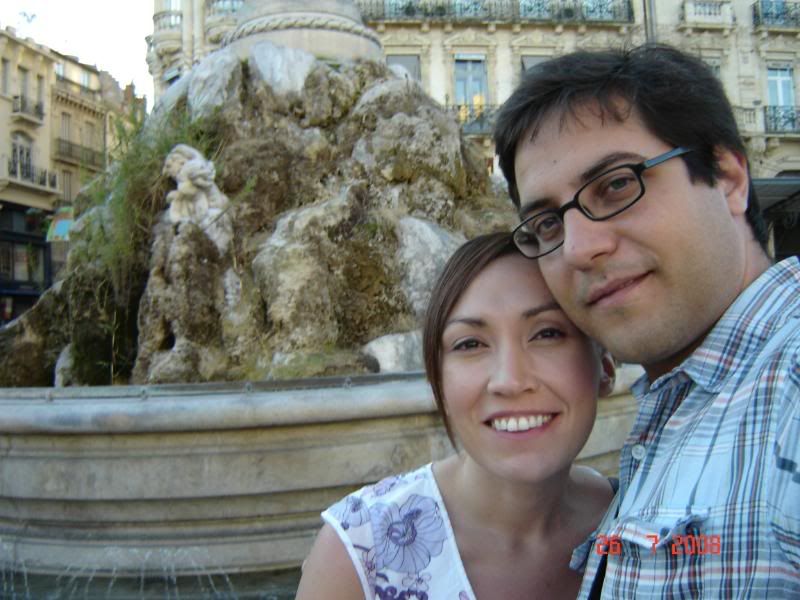 We had a nice tour through the Old Town taking in all the old sites and beautiful architecture.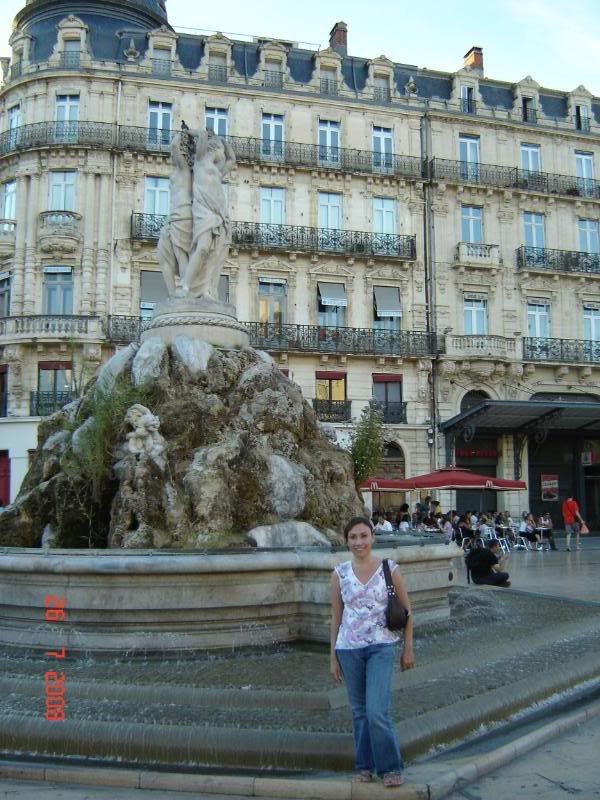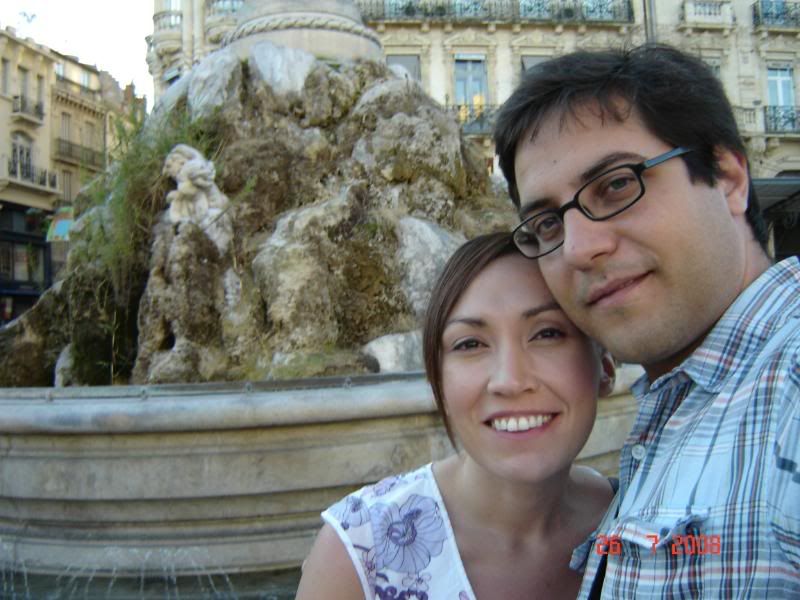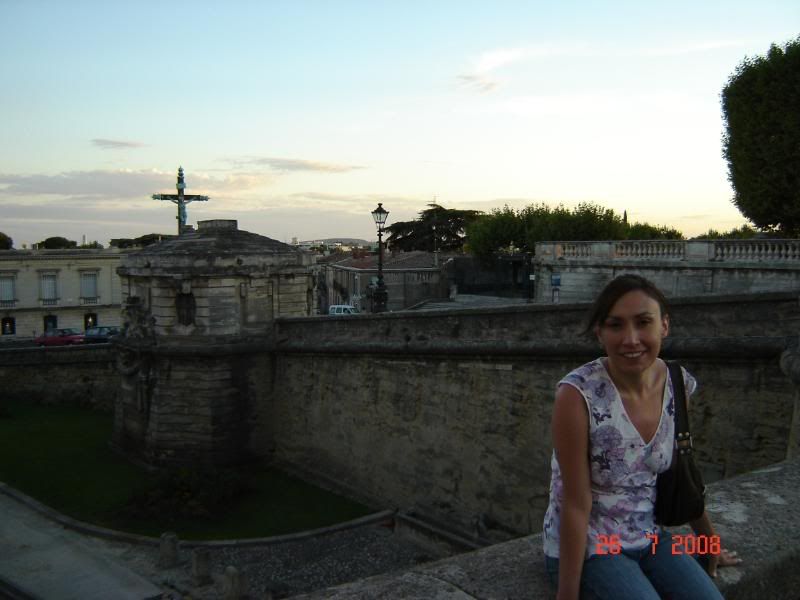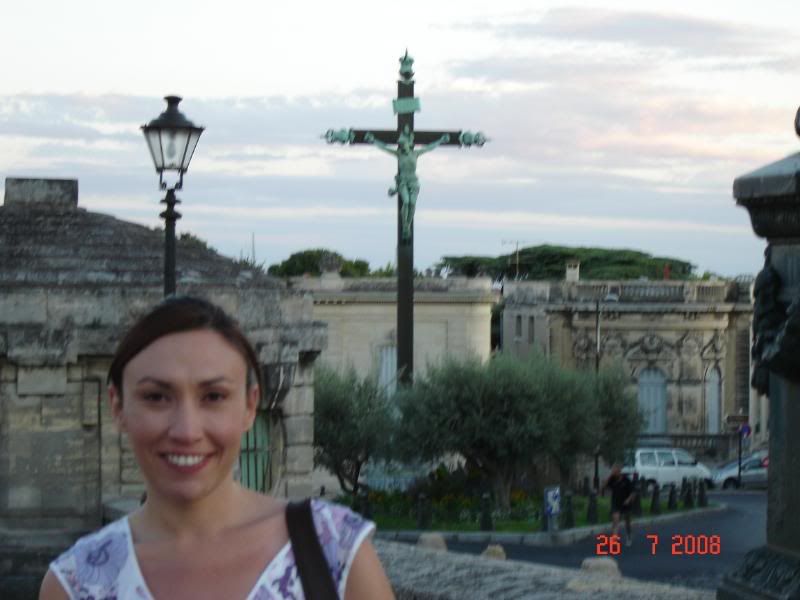 We made our way through the Arch, and down to the Roman Gardens to watch the sunset.
We continued on until stopping at the Plaza for a Panaché (a beer with lemonade, similar to a Chelada without the salt). We then continued our walk through the downtown and there were many performance artists on the streets for Les Estivales de Montpellier, or the summer festival.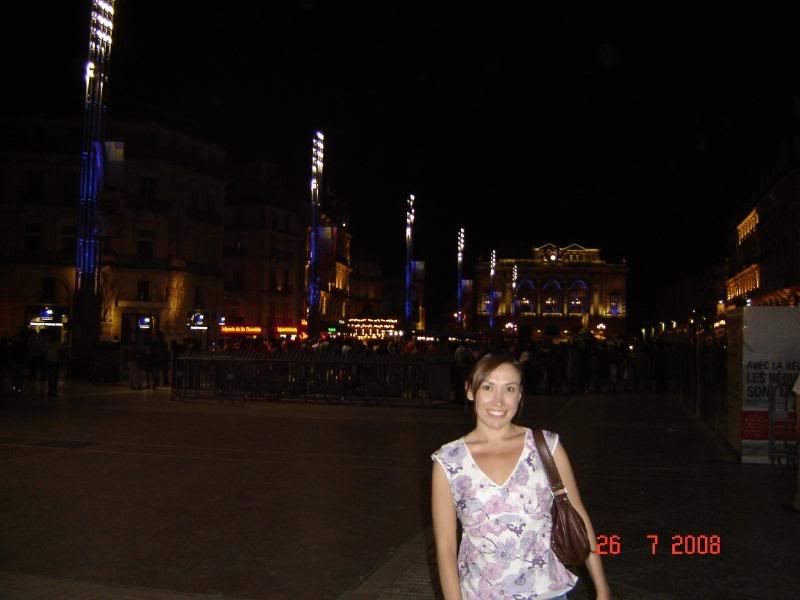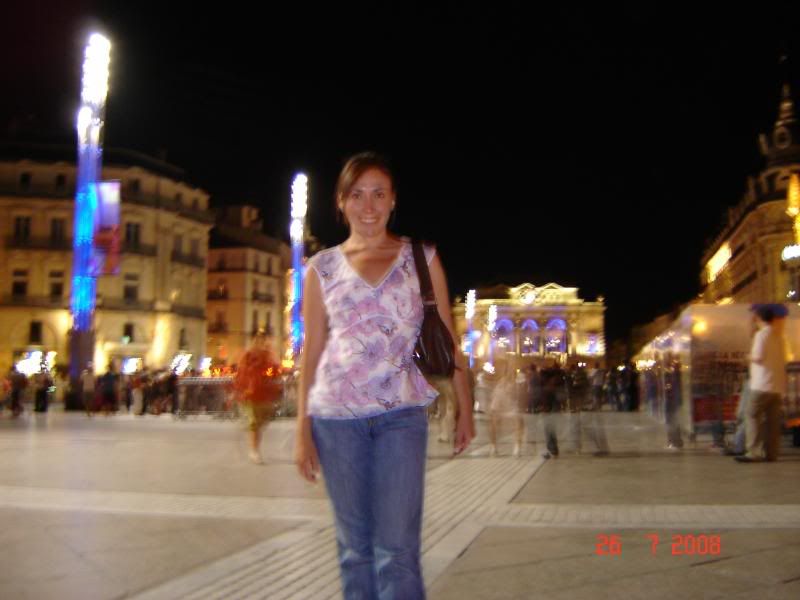 We watched a few of the performances and enjoyed the lights before heading back to the hotel.
The next morning we woke up and stopped at a café in New Downtown on our way back to Clermont for a coffee and a Pain au Chocolate. And I also took some pictures with the dolphins outside the café.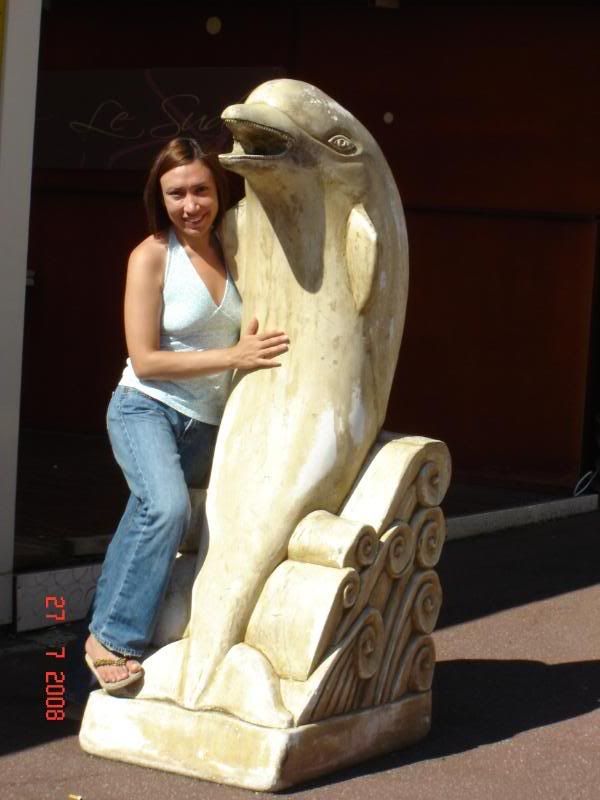 On the way back, Cornel and I took a few detours…visiting the rivers and stopping into the small towns. The first stop was in Saint Guillaume le Desert. It is a small forted city with cute plaza in the middle, and a beautiful church.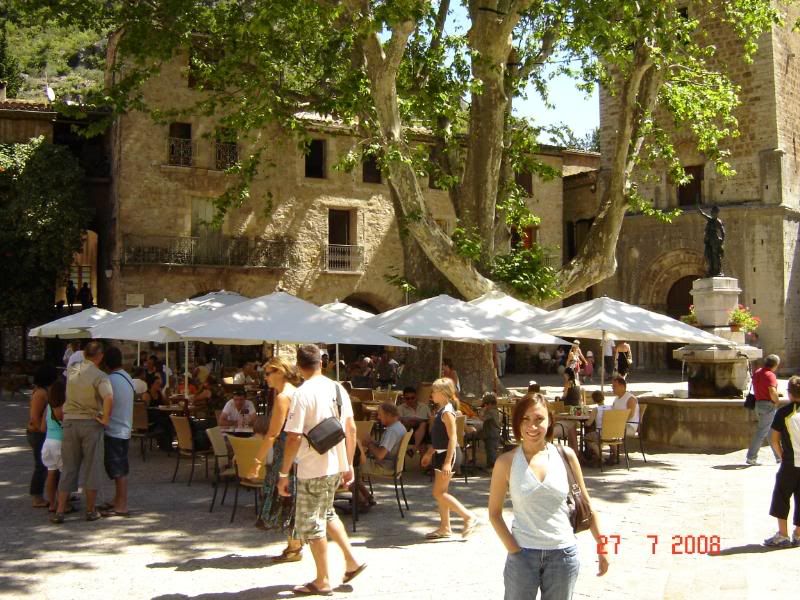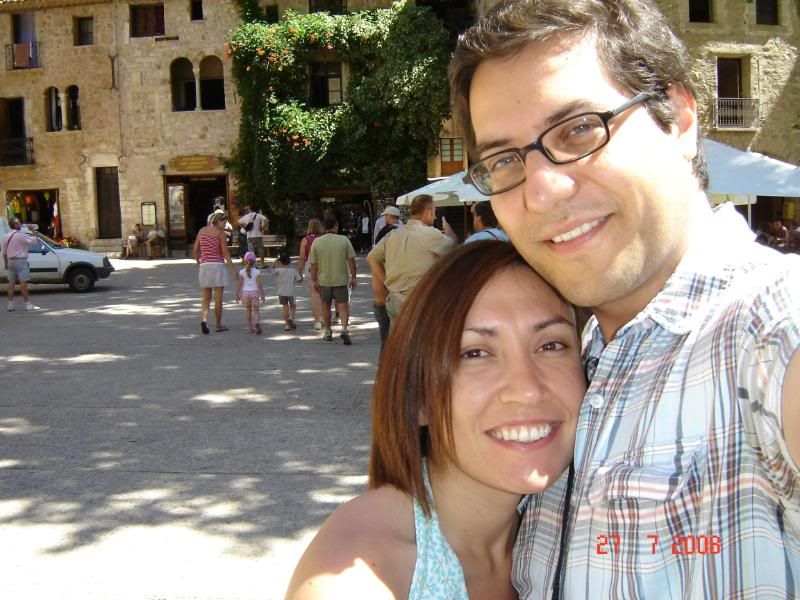 After visiting St. Guillaume, we stopped at Millau, the biggest viaduct in the Europe. It is truly an impressive piece of architecture and it was worth the hike up the side of the mountain to get a better view.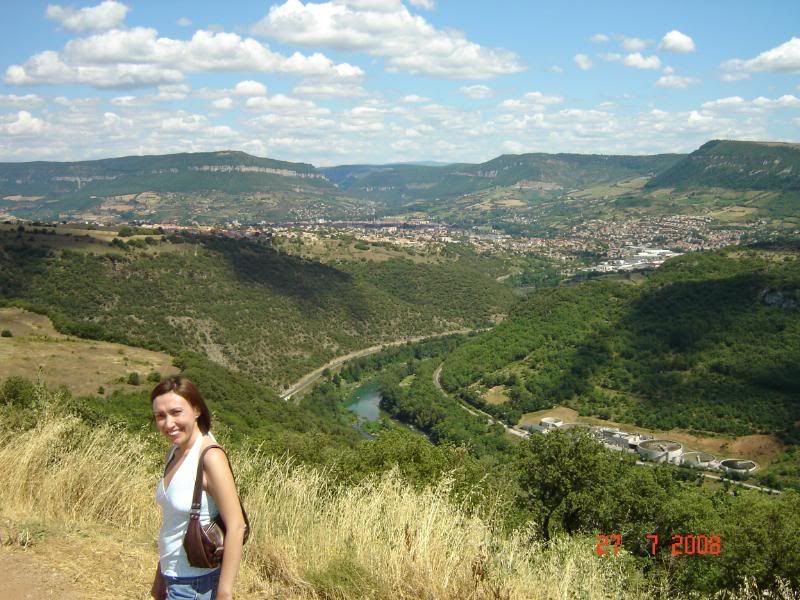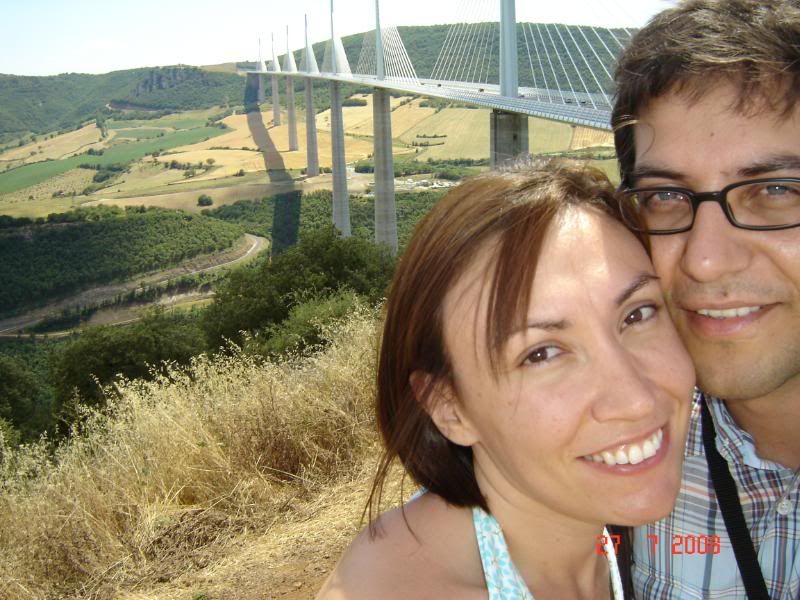 This summer, I also got a chance to go back to the US for a couple of weeks. The purpose of the trip was to go and pick up my visa from the French Consulate in Atlanta but I took full advantage of the trip.
Before I tell the story of my time in Atlanta, I must first tell you what a horrible, horrible experience I had in getting there. My plane out of Clermont was delayed by an hour, which meant that my two hour layover in Paris would now only be one hour. We landed and I had just enough time to clear customs, security and make it to my gate. I arrived and was one of the last people boarded.
The trip over was uneventful, and I watched about four movies before landing in Atlanta. In case you have not yet taken an international flight into Atlanta, let me explain the process. Deplane and make your way to American customs. After clearing customs, you must pick up your luggage (even if you have a connection) and re-check it in to your final destination. Well I cleared customs, but my luggage never arrived. I was told that I couldn't put in a claim until I arrived in Greenville. It was about 1 p.m., and I was supposed to arrive at about 4 p.m, so I didn't worry too much. I figured I could go the mall and buy a new outfit to get me through the next day until my luggage arrived.
The ATC had different plans however, and all of the Air Traffic computers in Atlanta had gone down. The computer system had come back up and they boarded my plane about a half hour late, not too bad. However, what they failed to tell us is that during the two hours that the computer was down, no plane had been able to take off, and all flight plans had to be entered manually. This meant five hours of being stuck on a small CRJ 50 seater on the runway. I was tired, hungry and now with no chance of going to the mall, I was faced with the thought of having to go the office in lounge clothes. We finally arrived in Greenville at around 9:30 p.m., EST; 24 hours after my journey had begun. After putting in my claim I was in a rush to try and find a store (other than Walmart) that was open and I made it to Target with 15 minutes to spare.
And that was my trip, I made it to Greenville checked into my hotel, and spent the next morning catching up with my old friends at work, before heading down to Atlanta in the early afternoon.
It felt so good to be back in the US in a familiar place and driving a car and speaking to people and being able to understand everyone! I spent the week shopping (everything in Europe is so expensive) and of course picking up my Visa at the French Consulate.
Since I had to work that week, I had to wake up at 2:30 a.m., everyday and work until 11 a.m. It was torture and I was a walking zombie, but it's the price I had to pay to have work pay for my trip.
My first Saturday in Atlanta, Amanda and I went to watch the Georgia football game at Taco Mac. I dressed in black and red and went to go cheer on the Bulldogs! I will support any team that throws a great party.
On Sunday night we went to pick up Brent from the airport who had just gotten home from two weeks in Australia! He caught us up on his trip and gave me my souvenir boomerang! I've always wanted one, now if only I can teach Jean-Baptiste to play fetch!!
The highlight of my trip was by far going to the Kathy Griffin show on Friday night. We had a few drinks and headed on our way.

The show was hysterical and I was so happy to have spent that time with Brent and Nate.
On the way back to the car, we saw this guy….and I just had to take a picture because really his outfit was classic!
We also came across a bar called BABS!!!! This is a must see next time I go to Atlanta!!
All in all my summer was great and I'm kind of sad that it is over. But now the trees are changing colors and I have a great fall and winter to look forward to, including Nate and Brent's visit over Thanksgiving, Christmas in Romania and New Year's in Prague! And soon another year will have come and gone.