I have to admit that I am a very fortunate person.
This past weekend I celebrated my 28th
birthday and I had the opportunity to celebrate for almost an entire week!
It started when I found out that Ana (a friend from work) had her birthday six days before mine and we decided to celebrate together.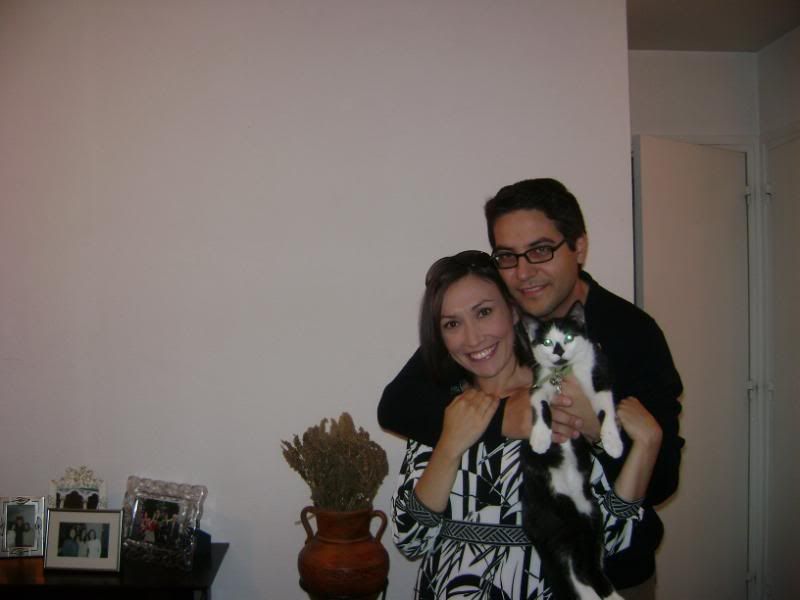 We decided to have a party with all of our friends and since Ana lives in downtown we decided to have the party at her house.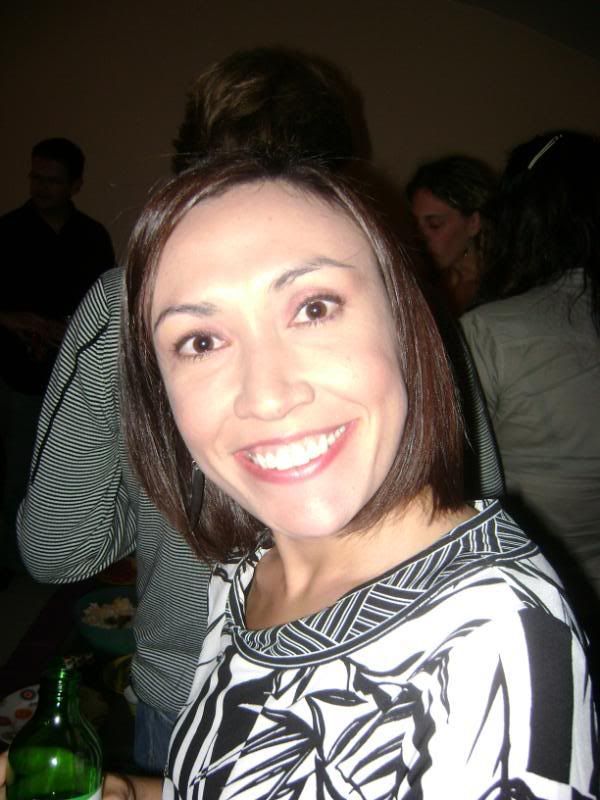 We had plenty of food, plenty of drinks and lots of good music.
After we had all started drinking a little, Belen and Monica decided to gives us a round of happy birthday karaoke! It was hysterical.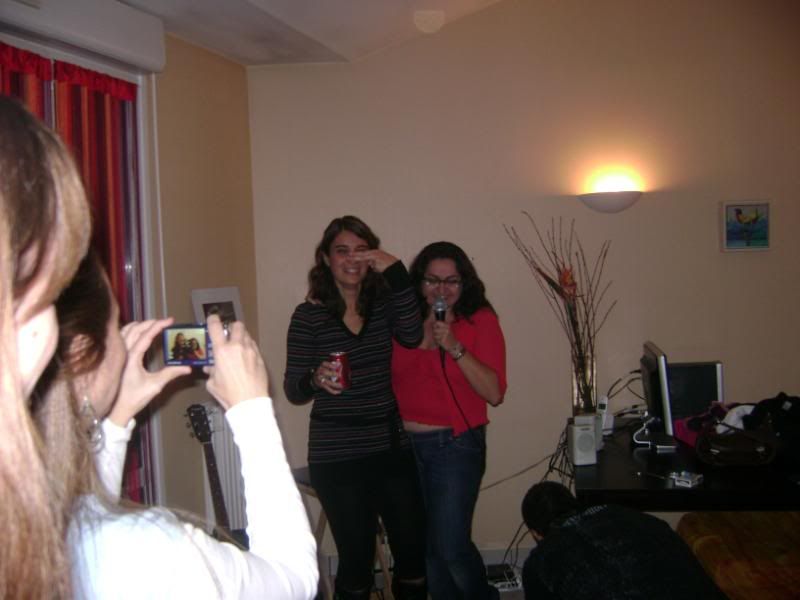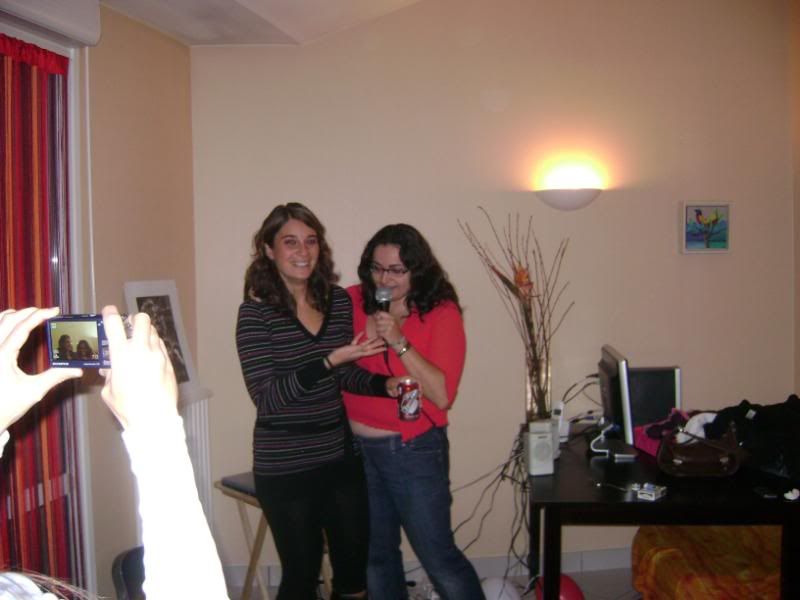 After a few more hours and a few more drinks, Luis, Ana's boyfriend took out his guitar and started playing for us, and then Ana joined in and started singing for us.

What is a concert without back up dancers, so Belen and Cornel got up and started dancing!

Ana put their dancing skills to work and had them clean her windows.
Then Cristina wanted to sing along to Guns N' Roses, Knocking on Heaven's Door, except she didn't know the words, so we had to look them up on the computer.
Cornel and I called it a night at about 3 a.m., and didn't wake up until 1 p.m., the on Sunday. It was so much fun, and I definitely think that pictures speak louder than words.
In addition to the party, I also had my birthday to celebrate. Thursday night I went to bed around 11:30, and was woken up at around midnight by Cornel and Jean-Baptiste who had put on the song "It's a Wonderful World" and entered the bedroom with a chocolate cake and candles, and a book about how to understand cats in French of course!
It was too cute and I thought that was it, but I was wrong. Cornel had been telling me that he was taking me on a surprise trip over the weekend, but wouldn't tell me where. I knew we were leaving Saturday but I didn't imagine what he had planned for the rest of Friday afternoon.
That morning I had to go to two doctors to satisfy the French government's requirements. After the doctors we arrived home where we cut into the cake, from Maison Vacher, a very delicious boulangerie near our house.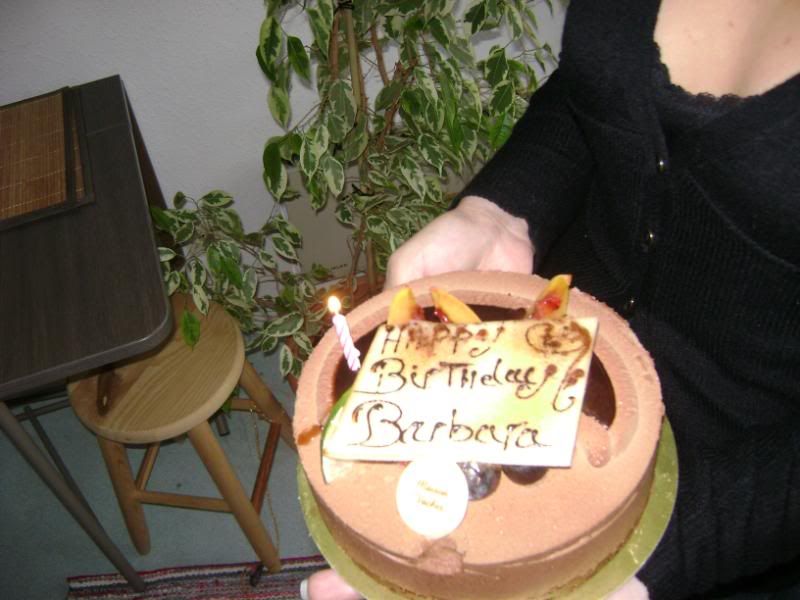 The cake was delicious and soon someone was at our door, and it was a beautiful bouquet of 27 red roses and I opened up a Vase as a gift from one of my favourite stores, Habitat.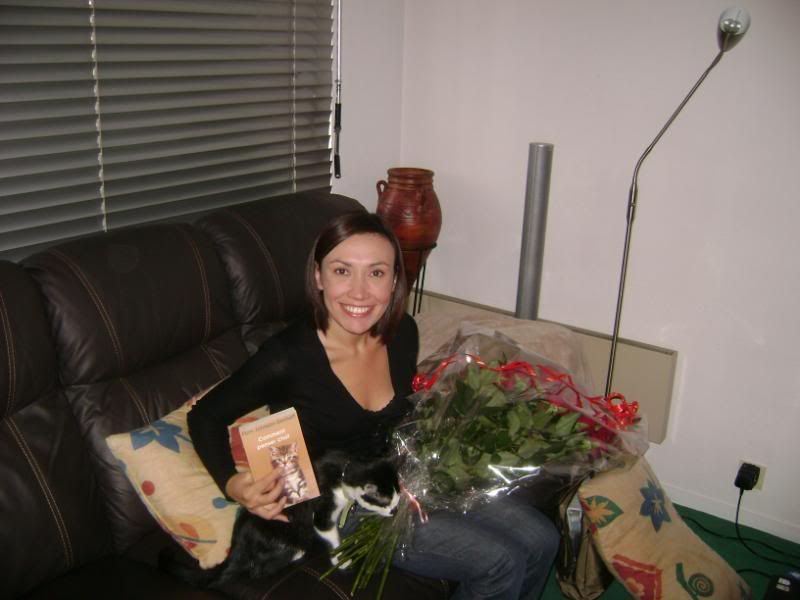 Needless to say I started crying.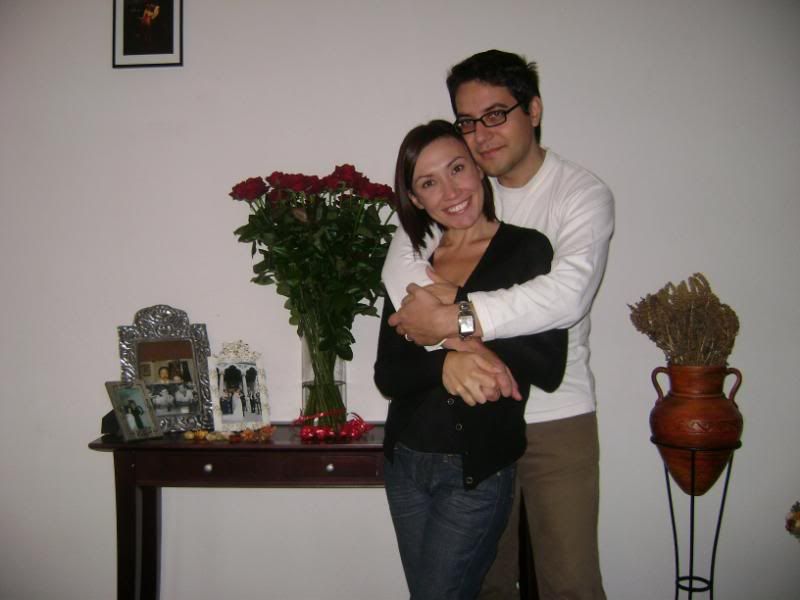 Cornel then told me that he had made reservations for a special dinner in Clermont that night. We got ready and arrived at La Tente Berber, a Moroccan Restaurant.

When you walk in the restaurant truly looks like a tent, and the lighting and atmosphere is beautiful.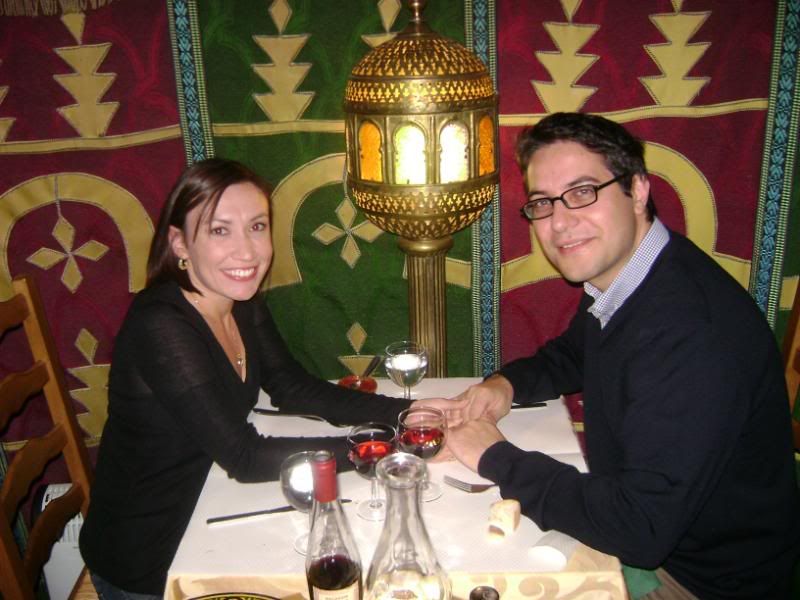 We ordered Moroccan Wine which was delicious.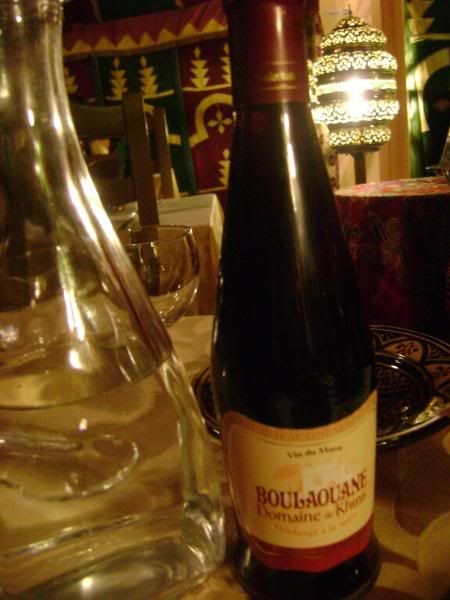 ... then we had the couscous

and then the lights went off and the owner carried out the tray of pastries with a candle and 28 in one of the pastries. I was embarrassed but it was all too sweet.

The night and day had been amazing, and it wasn't even close to being over.
We woke up early on Saturday and made our luggage for a mysterious place I didn't know. I was given the Michelin Green Guide on the region but the place was still unknown. We headed back in the direction of Montpellier and then took a turn to a place called Carcassonne, about an hour from the Spanish border.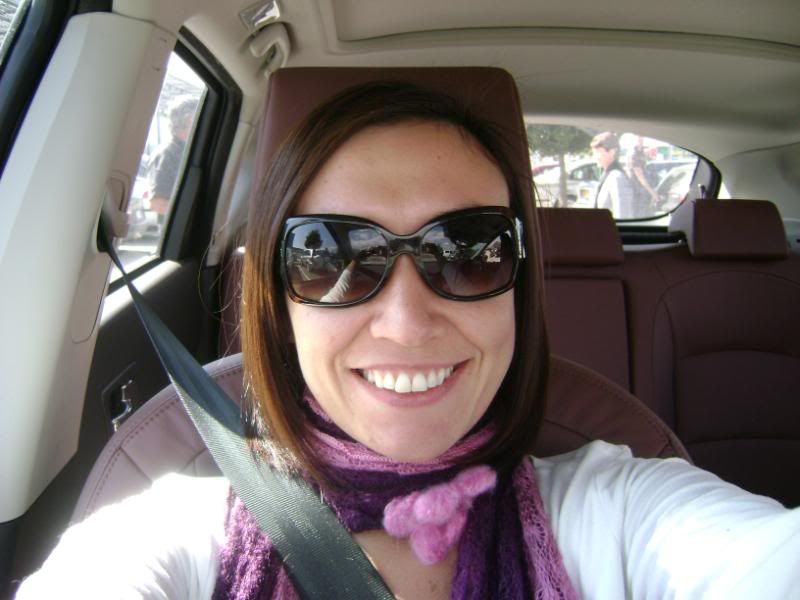 on one of the rest stops we even came acros one of Cornel's favorite desserts...Ile Flotante (floating island)
Carcassonne is impressive, it is the largest forted city in Europe and the views from there are spectacular.
Then it was time for my second surprise, we were staying inside the forted city at a gorgeous four star hotel called Le Hotel de la Cite. It was so beautiful and I couldn't help but take pictures of the gorgeous room. And of course it had a beautiful view of the gardens and the Pyrenees.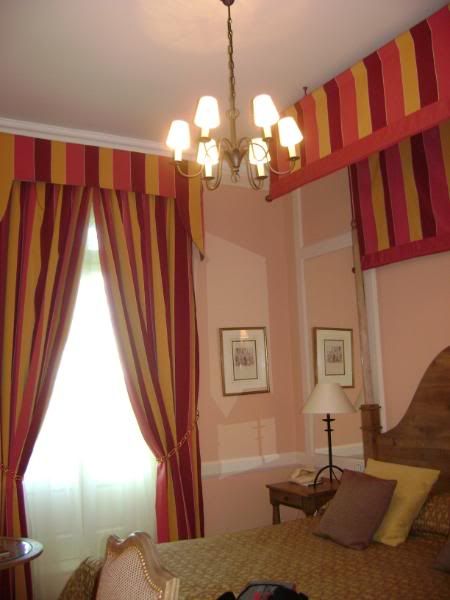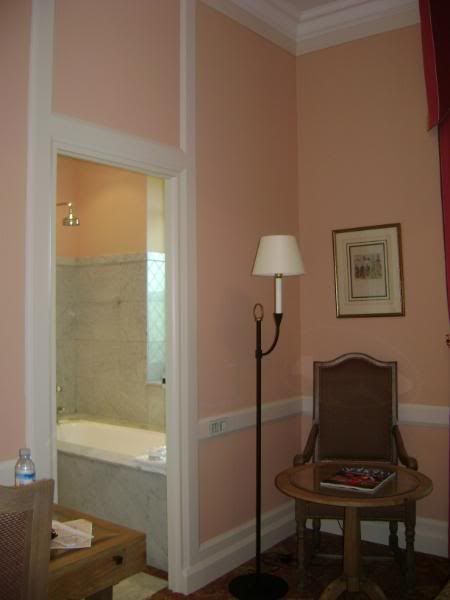 We checked in, dropped off our bags and made our way to view the city. We walked around the cobblestone streets and entered a few of the shops.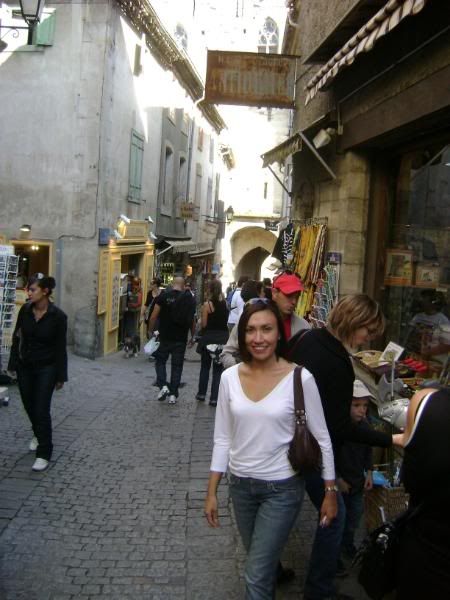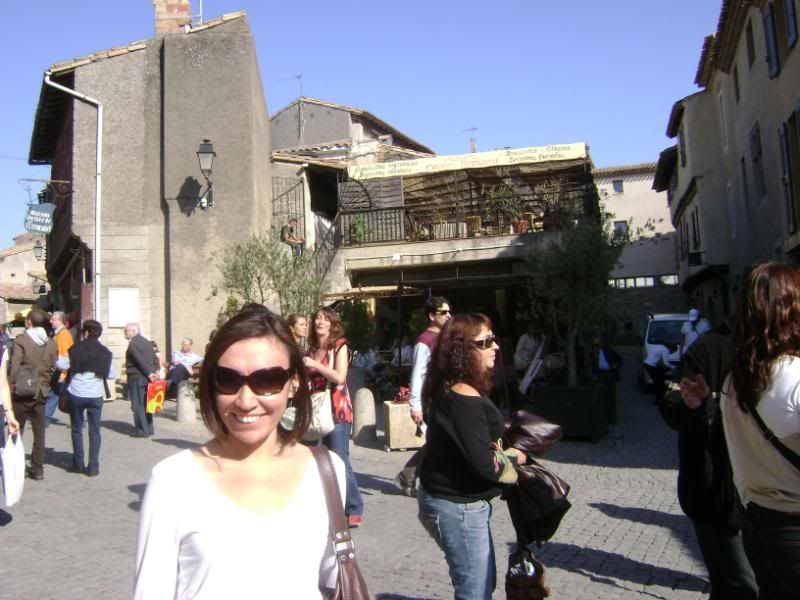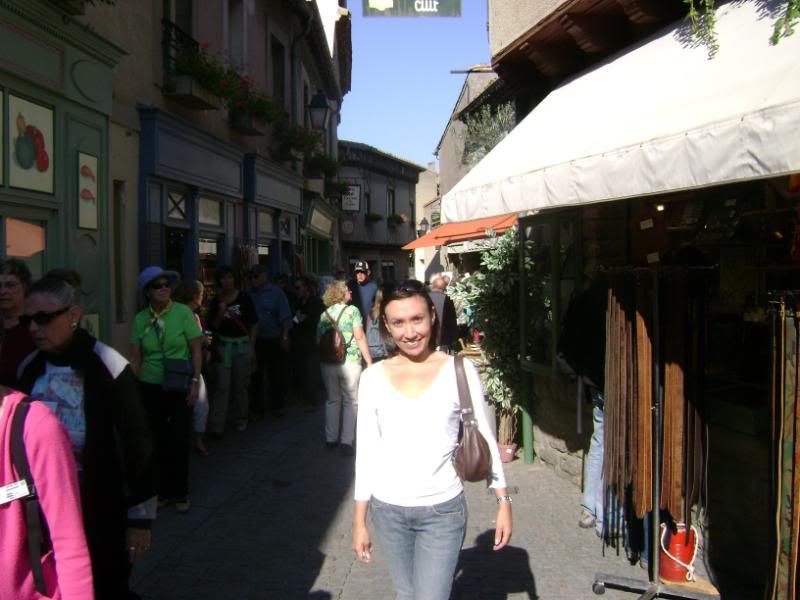 We then decided to visit the Castle of Carcassone.

We took the tour and walked through the castle and of course took lots of pictures, including those of the surrounding landscapes.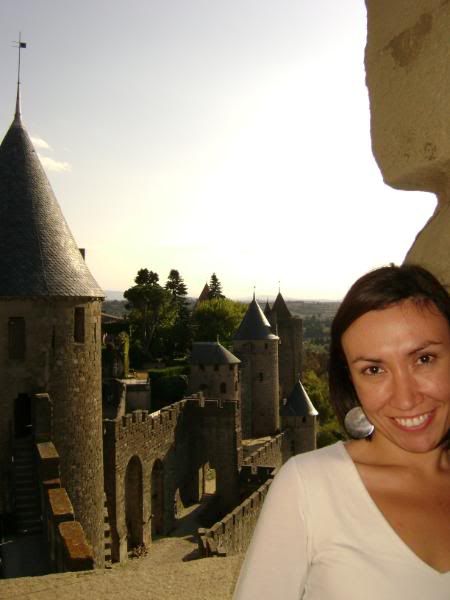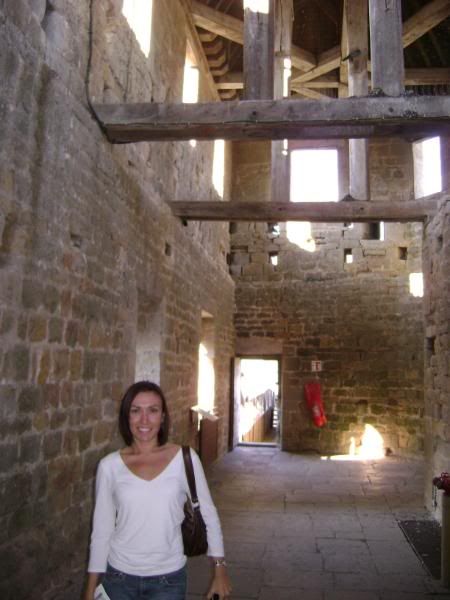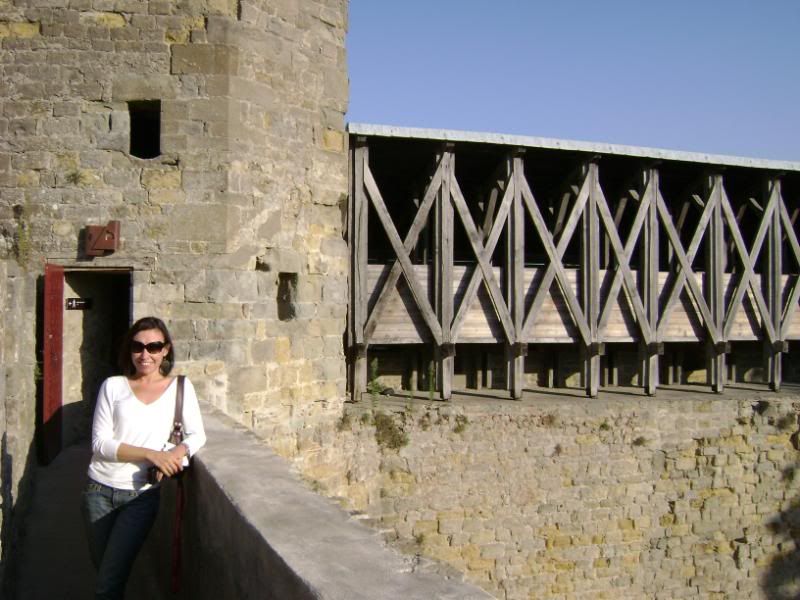 The castle has a very rich and sad history from war to revolutions and now to museum and monument.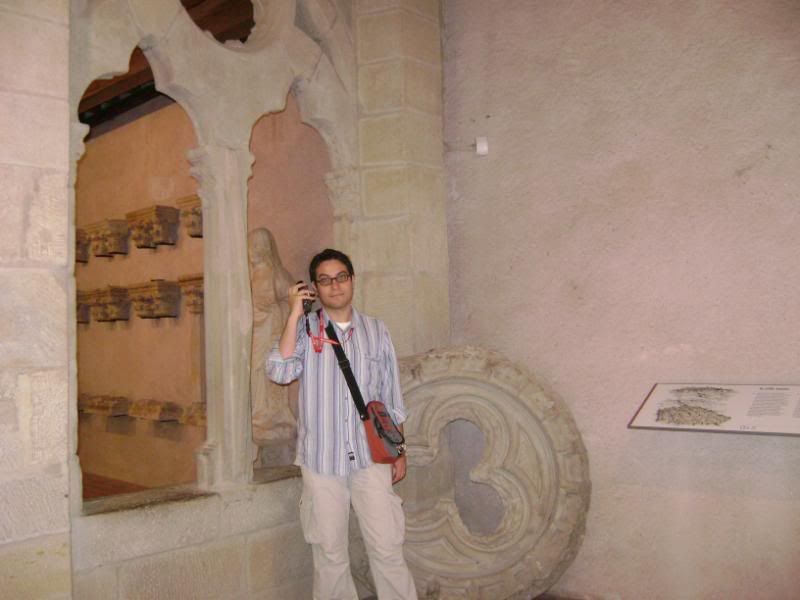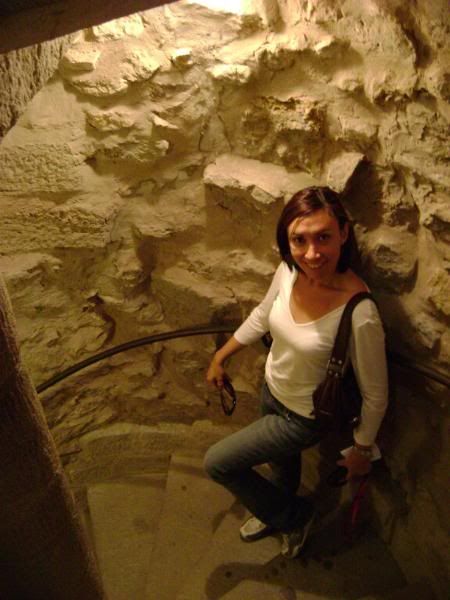 And the musuem even has some moden art, which I of course am not mature enough to appreciate!

After touring the castle, it was too late to visit the Ramparts, so we decided we would do that the next day.
We left the castle, and headed to the square downtown for a drink before heading back to the hotel to dinner. The weather was beautiful and we one of the beautiful terraces.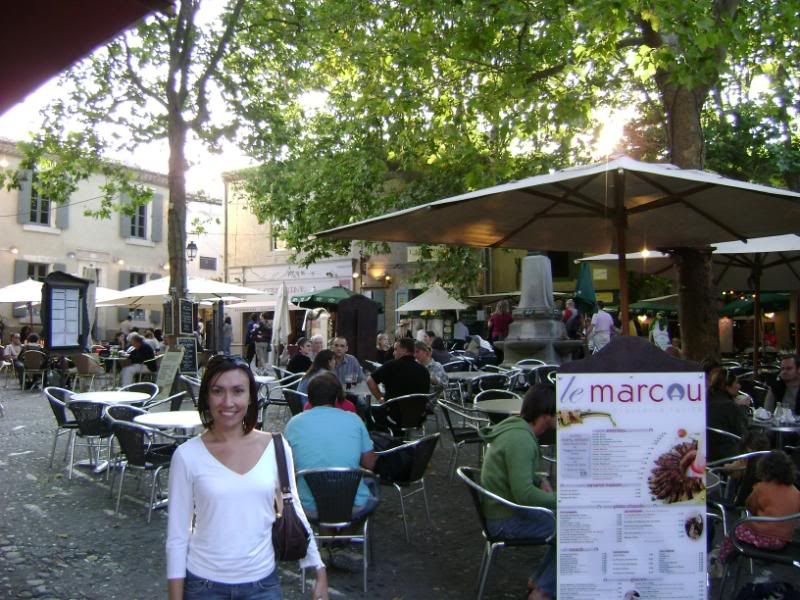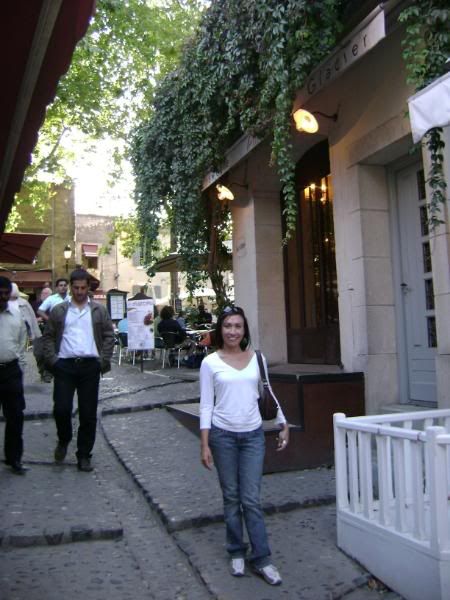 We headed back towards the hotel, and before heading to our room, we decided to take a walk through the beautiful gardens. The day was gorgeous and the garden was breathtaking.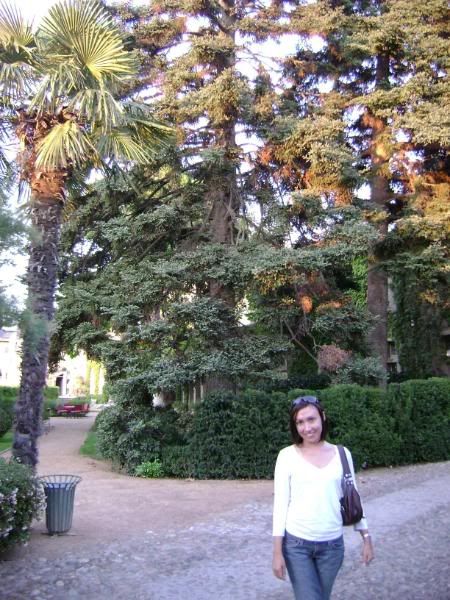 And we even caught a peak of our hotel room from the outside, there the last window and balcony.
We headed back up to our rooms and had time to lounge around in our robes and watch the sunset from our room before getting ready for dinner.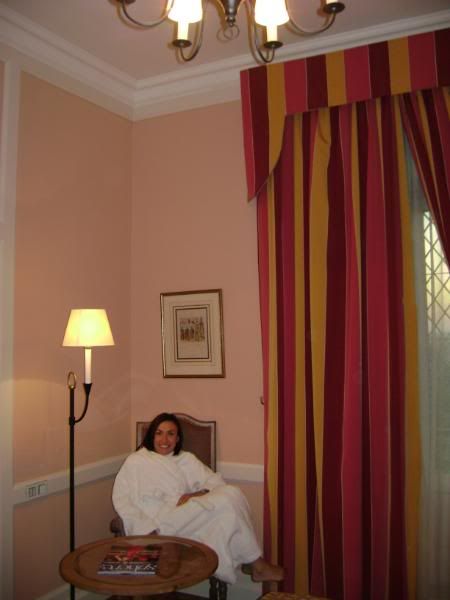 We got ready for dinner, and then headed down to the restaurant where we had our dinner reservations.
The restaurant was AMAZING!

I had never eaten at such a fancy place, with so many courses and the wine list was overwhelming. It was the size of a short novel and included wines for over 4,000 euros!
We settled for a more moderately priced wine and had a delicious dinner of salmon and steak, starting of course with the salads, and then finishing with the cheese course where we enjoyed a delicious blue d'Auvergne.
Since we had eaten so much at dinner, we decided to take a walk around the city at night since they lit up the castle and walls. It was a bit chilly, but the walking did us good.
The city at night looked completely different with the lights on, and few people in the streets.

And there was also something about Carcassone, where there were cats all over! In the streets and even in the street signs, and while you would think these were street cats, I had never in my life (jamais en la vie) seen street cats so well fed!
And I also couldn't resist taking a picture of our hotel at night!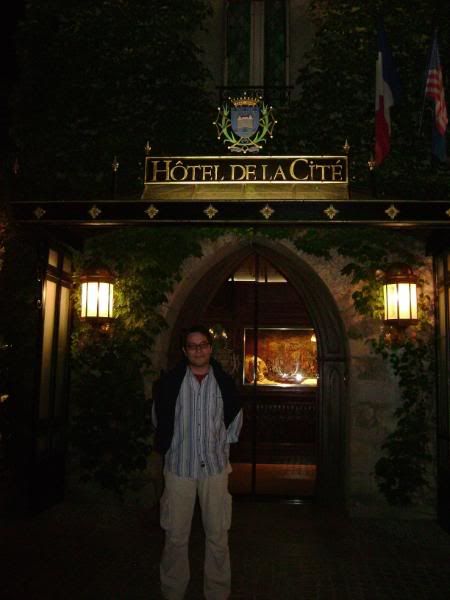 We also took pictures with all the pictures and maps in the hotel halls, which was once the Bishop's Palace.

After waking up on Sunday morning, we decided to go to breakfast in town rather than at the hotel. We went back to the center and sat outside on one of the terraces where we enjoyed our nice cafés au lait and crepes and of course toast with butter and jam.

The morning was nice and we walked around the town a bit more before going to the church. We had made it just in time for mass, so we decided to sit in for a little bit.
We didn't make it for the entire mass since we had to check out of the hotel, alors, we left and checked out before continuing our tour of Carcassone.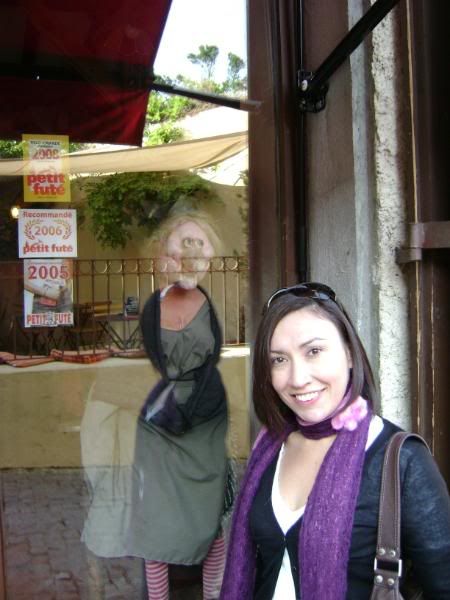 We went back to the Castle and signed up the tour of the Ramparts which wasn't until early afternoon, so we decided that we would go to lunch first before making our way back for the Ramparts.
The region we were in is famous for the Cassoulet. A dish made of duck, sausage and beans all baked together. And if you want good Cassoulet in Carcassone, where do you go but "Maison du Cassoulet" or the "House of Cassoulet". The afternoon was warm and we decided to sit outside on the patio.
And here is what cassoulet looks like, and trust me that it tastes much better than it looks!! It was delicious, and after we were completely stuffed, it was time for the Rampart tour.
We took the tour in English and our tour guide was very funny. We went to places of the castle that had been off limits in the previous tour and we were told a bit about the history. We made our way inside of towers and along the city walls, we even got to see the gardens of our hotel again.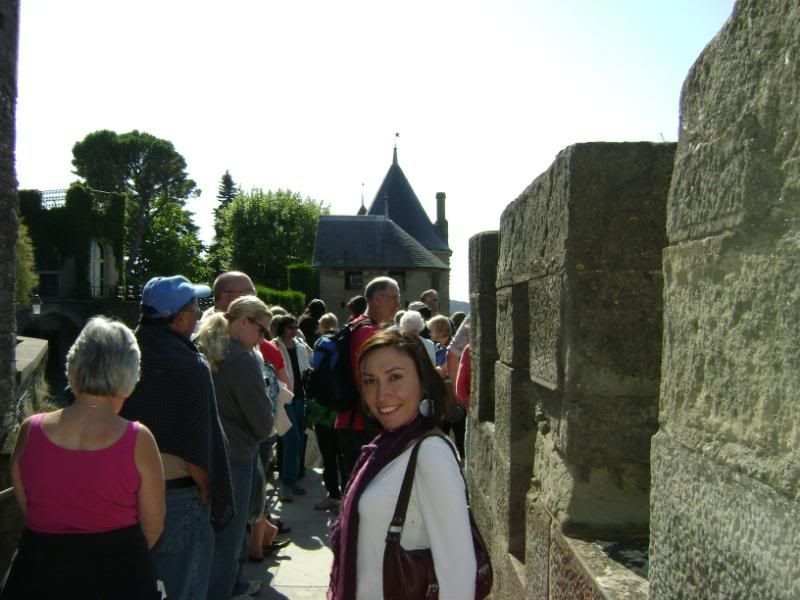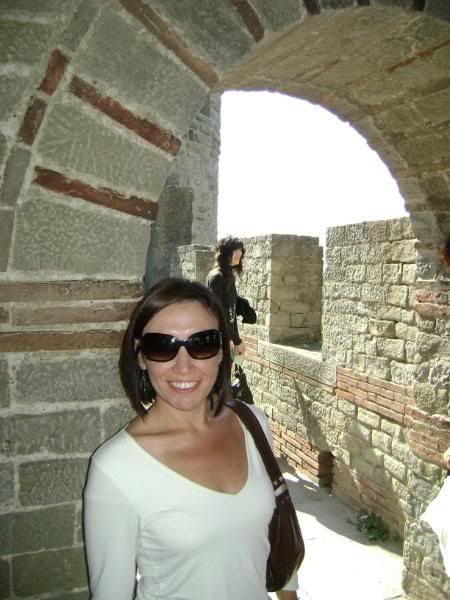 We made our way to the amphitheatre, which sadly only operates during the summer, and wound up back at the church.
By this time it was late afternoon and we decided to go back home and to Jean Baptiste.
This birthday weekend (or week) was amazing and I was so grateful that I had people around me to celebrate it with. And at the risk of sounding extremely mushy and girlie, I am so lucky to have found such a great man like Cornel, who went above and beyond to make sure I had a great birthday!