Welcome to my blog, where I hope to post about my life on the other side of the Atlantic. Where to begin? Now that I have arrived in Clermont and have somewhat settled in, I can write about the journey that led me here.
The Pre-Departure
In true procrastinating fashion, I pretty much did nothing until the week before I had to move out of my apartment. Overwhelmed and with too much stuff; Nate, Brent and Leilanie came up to help me get things out of my house. Since everyone arrived on Friday evening, we decided that a night out on the town was exactly what we needed before a day of heavy lifting.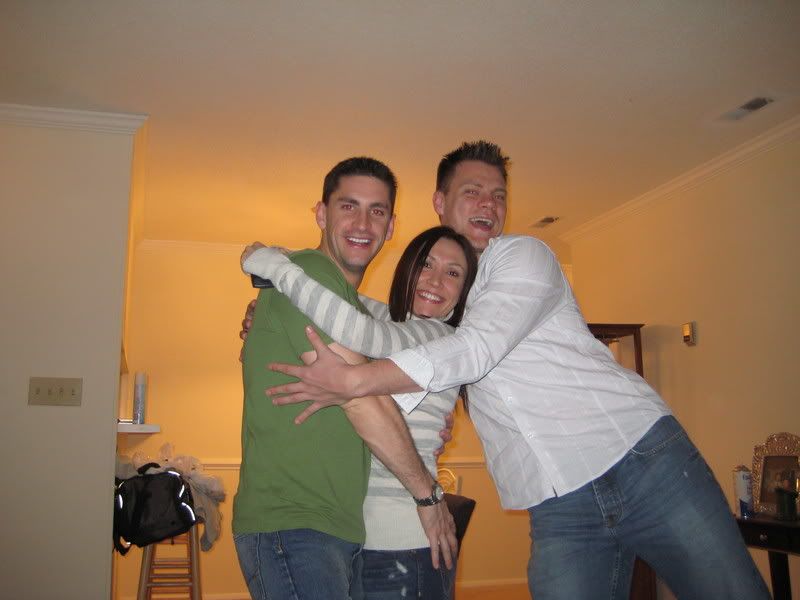 Saturday morning the boys rented a truck to help me get some things to goodwill and take some of the things I couldn't bring with me. Once the truck was packed, the boys headed back to Atlanta and Leilanie and i setted in for a girls day before I had to pick Cornel up at the airport.
Even though the boys made a huge dent, Cornel and I still had a lot to do and only a week to do it in, all while working. Needless to say we (I) were very stressed! We were able to somehow get it all done and fit all of my belongings into five suitcases and one carry on - and what is even more surprising is that we were able to fit it all into my car to begin our cross country journey.
Day 0.5
Miles traveled:
0
States visited:
South Carolina
Once the car was packed up early Saturday afternoon; we headed to the first stop on the trip - Atlanta. It was Brent's birthday weekend, and I couldn't imagine leaving the country without having one last night with my friends.
The emotions crossing into Georgia were bittersweet. I was excited to begin the next chapter in my life, but I realized as we crossed the state line that I would not be back to South Carolina; at least not as the same person I had once been.
The night in Atlanta was so much fun. Brent's friends Susan and Fred were visiting from Ohio and we stayed in and had game night.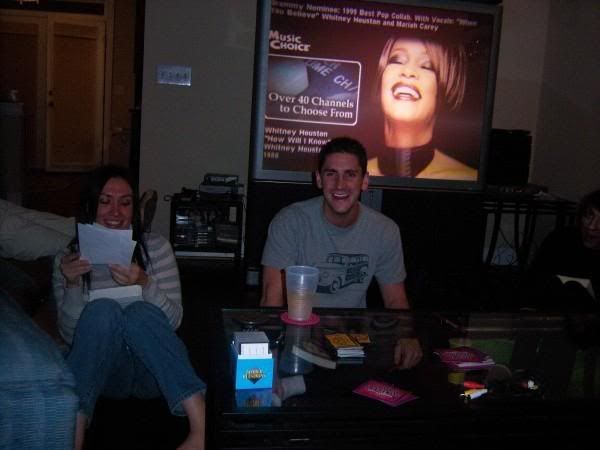 And while I was there to say goodbye to my friends, I also saw it as an opportunity to say goodbye to he TV the boys so graciously took off my hands (and yes Nate is wearing a onesy)
Day 1
Miles traveled: 150
States visited: South Carolina; Georgia
The next morning was so sad. We got ready, packed up the car again and got ready to head out, but not before watching an episode of High School Reunion. Before we left Nate gave us a "cross country survival kit", which had a travel pillow, white chocolate chip chocolate cookies (Cornel's favorites), CD's for that long haul through Texas and two bottles of energy boosts in case we got a little tired.

As soon as we had to say goodbye, I started bawling my eyes out! I was so sad to leave and to say goodbye! We would no longer have drinks for charity or silver skillet breakfasts, I might stat to cry again - so I'll just post the pics.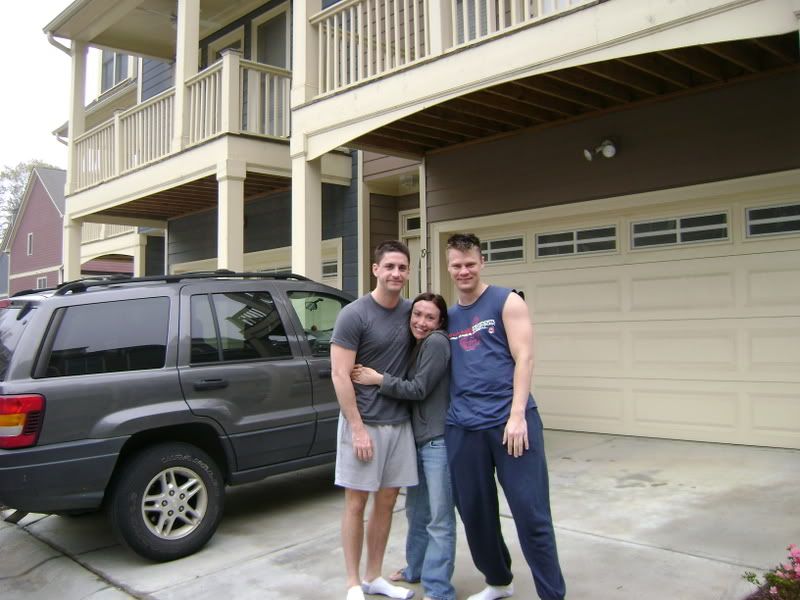 We headed out; and crossed into Alabama within an hour or so; and it wasn't long before the survival kit made it's first contribution:
For any of you that are attempting this trip, be warned that the entire state of Alabama is under construction and the roads are miserable, so make sure your tires are properly inflated and that you have a lot of patience, or in our case cookies!
We crossed into Mississippi and made our first stop for gas and lunch.
After a quicklunch we rushed through Mississippi and were very excited to see the Mississippi River (the first time for me) and of course crossing into Louisiana at the other end of the river: (please forgive all the dead bugs on the windshield)
We got through most of Louisiana and decided to stop and gas up in Shreveport, getting off the exit on I-20 was the scariest experience. I have been to some scary gas stations in my life, but the ones in Shreveport were by far the scariest. We drove to at least three different ones until we found one that didn't look so scary. We found one that had 7 police cars in the parking lot, obviously there had been some sort of incident; but does lightning really strike twice? We figured a gas station with armed officers was our best bet, still I locked the doors when Cornel went out to pump gas; a girl can never be too sure. Little did we know that this would not be our last run-in with the law.
After the Shreveport gas station, we headed into Texas: the land of George W., cows and really not much else.
Shortly after crossing Texas we pulled into Longview; where we settled in for the night. Longview is also the home to one of my best friends from high school, Casney. I hadn't seen her in about five years so it was nice to see each other! Casney and her husbqnd Charles called it an early night and we did too, we had to get up early and drive through the wonderful state of Texas!!
Day 2
Miles traveled:
811 miles
States visited:
South Carolina; Georgia; Alabama; Mississippi; Louisiana; Texas
After breakfast, we hit the road again, and everyone had been right! Once we got out of Dallas; there was nothing; a few country towns every once in a while but they were few and far between!
Driving through west Texas is really quite a conundrum, you are in the middle of nowhere; so you drink plent of liquids should you be stuck out in the desert somewhere; however you are in the middle of desert where there are no bathrooms. If you are shy and don't want to go in front of an audience of cactii; bugs; animals and the occassional trukcer - stay away from the liquids!
I have to admit that in my boredom I went stir crazy and took many pictures of the vast nothingness that is Texas..below is a small montage of West Texas...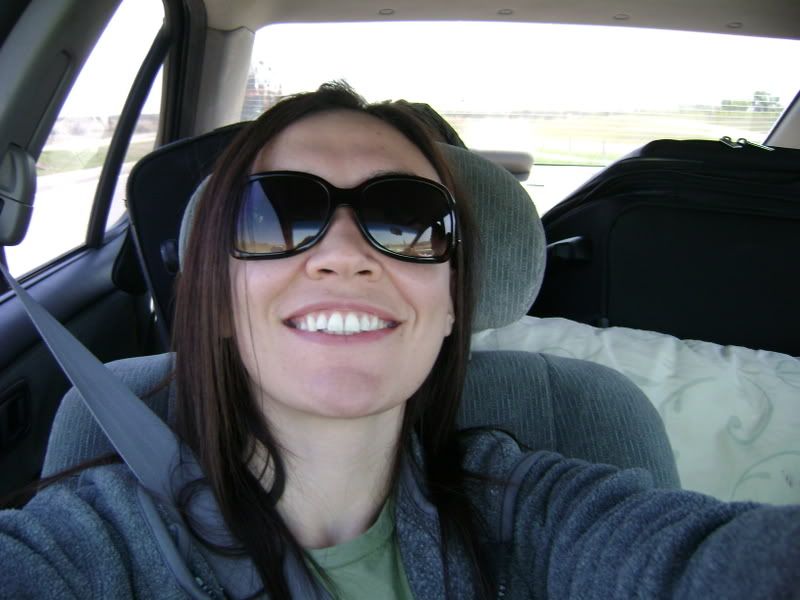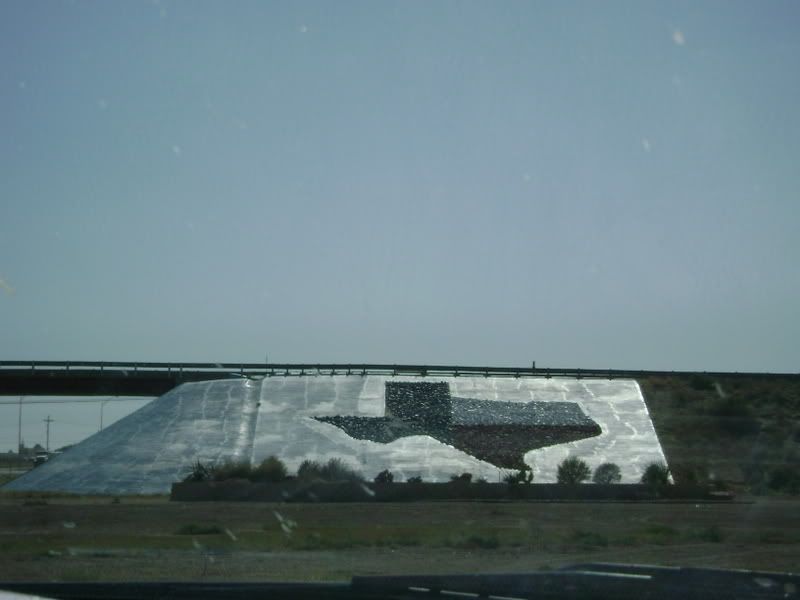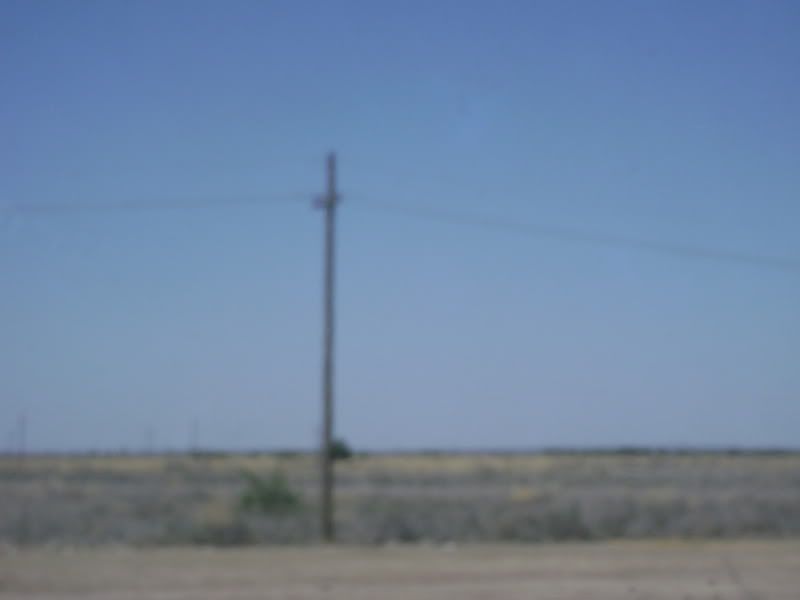 We were nearly out of Texas, only an hour from El Paso, and 90 miles to the New Mexico border; when all of a sudden we see the flashing red lights of the Highway Patrol behind us...we got pulled over for going 88 mph in an 80 zone (I honestly believe it was because of my SC plates; but we'll never know). After about 10 minutes the officer issued Cornel a warning (I think because he had a French driver's liscense) and we were on our way. We had planned on stopping in El Paso; but decided to stick it out until New Mexico.
We settled in Las Cruces for the night.
Day 3
Miles traveled: 1,615
States Visited: South Carolina; Georgia; Alabama; Mississippi; Louisiana; Texas; New Mexico
Number of traffic citations: 1

While reading the book at the hotel we realized that we were very close to White Sands, New Mexico and decided to go and see it since we were only 2 hours fro, Arizona, so after breakfast we headed out.
Having lived next to the state of New Mexico for practically my entire life, I never truly appreiciated its beauty.
And it is truly a,azing how out of a vast desert the white sands begin to appear:
We arrived at White Sands National Monument and could not have asked for a better day!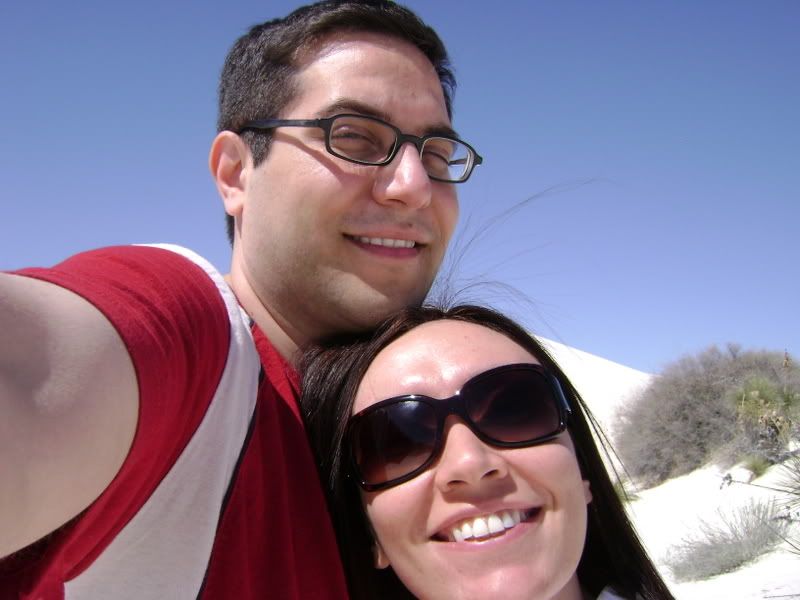 After a few hours at whitesands, we decided to drive the final 200 miles to Arizona...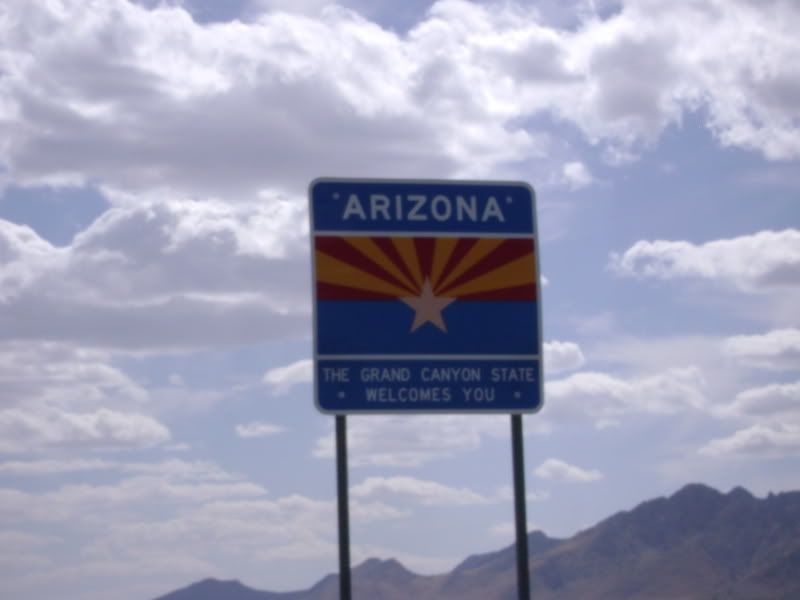 This was truly a once in a lifetime experience, if only because I don't think that I am insan enough to try it twice. I was so grateful to have Cornel on the trip with me and I think it brought us closer together. I'm glad that I had the chance to say goodbye to the greatest friends a girl can have; and now I look forward to them coming to visit on this side of the Atlantic!
The final stats for the trip...
Number of days:
3
Total miles traveled:
1,828 (not counting the 120 mile roundtrip detour to White Sands)
Number of States Visited:
8
Number of traffic citations:
1
All in all - it was a great trip!